Army dog handlers receive Afghanistan medals
Soldiers from 104 Military Working Dog Squadron, part of the 1st Military Working Dog Regiment, were honoured in front of proud families and friends on Wednesday 6 April 2011, when they were presented with their Op HERRICK campaign medals.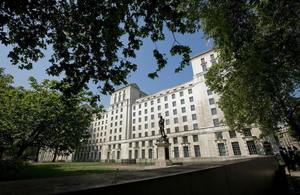 The family of Lance Corporal Liam Tasker, a member of the squadron who was tragically killed in Afghanistan, were presented with his medal alongside his colleagues at St George's Barracks, North Luffenham.
Lance Corporal Tasker was taking part in a patrol with his dog, Theo, when they were engaged by small arms fire, during which he was struck and died from the injuries he sustained. And sadly, on returning to Camp Bastion, Theo suffered a seizure and died.
The squadron and four RAF Police dog handlers deployed to Afghanistan in support of 16 Air Assault Brigade.
Together with their military working dogs the squadron's role was to provide protection and search capabilities as well as helping to clear routes, buildings and vehicles.
The highly-trained dogs and their handlers carried out tasks that included patrolling the bases where fellow British soldiers were based, searching vehicles at checkpoints and going out on patrols on the front line to search for weapons, ammunition and explosives.
Colonel Neil Smith, the head of the Royal Army Veterinary Corps, who presented the campaign medals, paid tribute to Lance Corporal Tasker and congratulated the dog handlers on an arduous but successful tour. He said:
Lance Corporal Liam Tasker was a real star and together with Theo exemplified the ethos, character and capability of Royal Army Veterinary Corps handlers and their dogs.
Every one of you can be very, very proud of what you have achieved in the last six months. Because of what you did, and I certainly include Lance Corporal Tasker in this, there are people, soldiers, who are alive today.
There are people, soldiers, Afghan security forces and Afghan civilians who owe their lives and lack of injury to what you and your dogs have achieved.
The squadron was also presented with a commendation from Commander of Joint Force Support (Afghanistan), Brigadier Alister Davis, for its distinguished service in support of Op HERRICK.
Officer Commanding, Major Caroline Emmett, who received the commendation on behalf of the squadron, said:
All the soldiers can be proud of what they have achieved; they have demonstrated professional skill and courage and are a credit to themselves and the Army.
104 Military Working Dog Squadron is one of five squadrons that together form the 1st Military Working Dog Regiment. The regimental headquarters and three of its squadrons are based in Sennelager. The regiment also has a squadron in Aldershot.
The regiment comprises 284 soldiers and officers and about 200 dogs.
Published 7 April 2011