Army doctors row around Britain in record time
After 50 days at sea and 2,100 miles (3,380km), two Army doctors finished their record-breaking row around Great Britain last week.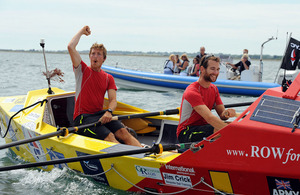 Captains Hamish Reid and Nick Dennison of the Royal Army Medical Corps crossed the finish line in the Solent on Thursday 1 July 2010.
They set off in mid-May aiming to become the first pair to row non-stop and unsupported around the British mainland.
As they rowed back across the finish line in the Solent, near the entrance to Lymington Yacht Haven in Hampshire, at 1430hrs they were greeted by delighted family members and friends on a flotilla of boats which escorted them back in.
Captains Reid and Dennison then took their first steps on dry land after 50 days at sea:
The main feeling about setting a world record is a great relief after putting in so much effort getting around, plus the two years planning over the course of that time," said Captain Reid.
Many experienced seamen told us it would not be practical to complete the journey, so we are delighted to be able to prove them wrong.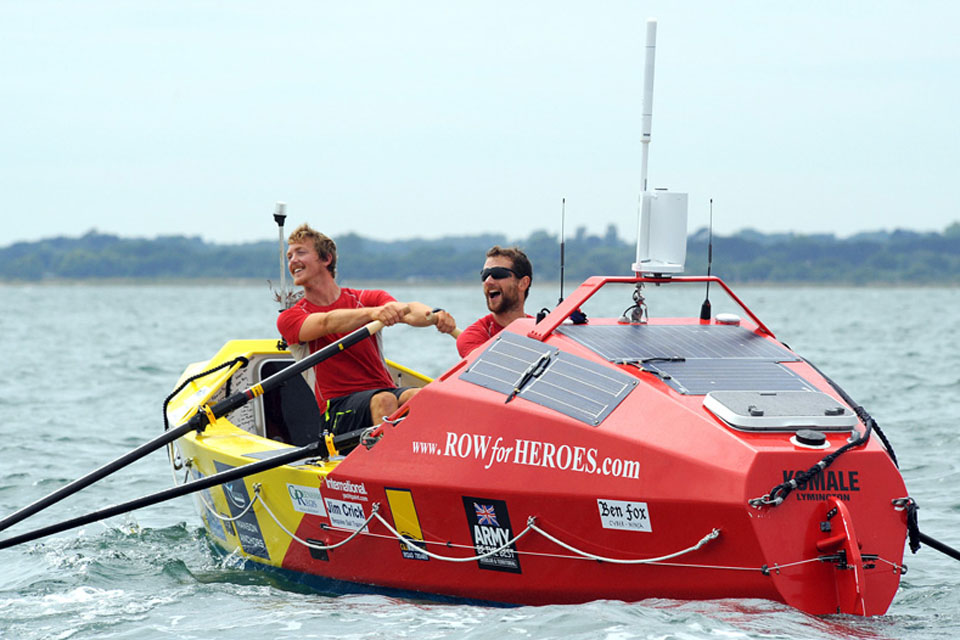 Captain Dennison added:
As expected, our progress has been entirely dependent on the weather and our progress directly reflected wind direction and speed and the amount of rain.
This has meant that we have seen everything from showers, sunny days with a tail wind, to ferocious storms.
The pair set off on the challenge on Wednesday 12 May 2010 in their 24-foot (7m) ocean-going rowing boat 'Komale' and battled high seas, fierce winds and strong tides on a journey of more than 2,100 miles.
The record attempt was dominated by tide cycles, with the two officers alternating between rowing two hours on and two hours off in open seas and resting together at anchor during the foul tide in inshore waters.
They rowed up to 20-hours-a-day, with their sleep patterns dependent on weather conditions.
Maintaining good physical condition made the nutritional demands of the row very important.
It's estimated they each expended 8,000 calories per day and had to cater for this in their diet.
During the row they undertook scientific research into the calorific demands, similar to work done by Mike Stroud and Ranulph Fiennes on their polar expedition.
This will provide new insight into the nutritional demands of prolonged exertion and physical degradation, an increasingly important component of current operations in Afghanistan.
Director General Army Medical Services, Major General Mike von Bertele, said:
The achievement of these two young doctors cannot be underestimated; they have shown courage, discipline and integrity throughout the whole challenge, qualities essential to that of an officer in the British Army today.
Additionally, the scientific research they have undertaken during their remarkable trip will no doubt be invaluable in providing insight into the nutritional demands of prolonged physical exertion - an increasingly important component of current operations.
They are a credit to the Royal Army Medical Corps.
In setting the world record the British Army doctors aim to raise £20,000 for both ABF The Soldiers' Charity and Help for Heroes.
Published 5 July 2010