Army doctors attempt to row around UK
Two British Army doctors are attempting to set a new world record for rowing around Great Britain after setting off from Lymington Yacht Haven in Hampshire on Wednesday 12 May 2010.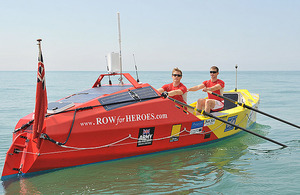 Captains Hamish Reid and Nick Dennison of the Royal Army Medical Corps aim to become the first pair to row non-stop and unsupported around the British mainland and hope to raise £20,000 for ABF The Soldiers' Charity and Help for Heroes.
They are undertaking the challenge in their 24-foot (7.3m) ocean-going rowing boat 'Komale' and are battling high seas, fierce winds and strong tides on a journey of more than 2,100 miles (3,380km) in approximately 45 days.
The record attempt will be dominated by tide cycles, with the two officers alternating between rowing two hours on and two hours off in open seas and resting together at anchor during the foul tide in inshore waters.
They will find themselves rowing up to 20 hours a day, with their sleep patterns dependent on weather conditions.
Capt Dennison is currently based in Bovington Camp, Dorset, home of the Royal Armoured Corps, where he looks after the staff and Phase 2 recruits. He aims to become an anaesthetist.
Capt Reid is currently the Regimental Medical Officer of 22 Engineer Regiment in Tidworth and is hoping to train in sport and rehabilitation medicine. Before setting off he said:
"The row demands prolonged physical endurance and in order to complete it we will have to achieve an elite level of fitness prior to departure.
We have to condition our bodies to deal with fatigue, discomfort and prolonged exertion. Courage, discipline and integrity are fundamental to the success of this challenge.
Capt Dennison added:
The race will put us in situations we have not experienced before and we shall need to dig deep into our mental reserves to maintain our efforts, uphold these standards and, in the worst case, survive.
In order to complete the circumnavigation we need to be well versed in a variety of methods of navigation, everything from GPS to navigating by dead-reckoning.
We aim to set a competitive world record and in order to do this our route and navigation through the inshore waters and tides must be excellent, and to this end we have undertaken both Yachtmaster and sea-survival courses.
Safety is paramount so well-practised safety drills and mastery of radio procedure are vital in our preparation.
Maintaining good physical condition makes the nutritional demands of the row huge. They estimate they will expend 8,000kcals per day and will cater for this in their diet.
During the row they will undertake scientific research into the calorific demands similar to work done by Mike Stroud and Ranulph Fiennes on their polar expedition.
This will provide new insight into the nutritional demands of prolonged exertion and physical degradation - an increasingly important component of current operations.
The two officers first met at the Royal Military Academy Sandhurst and recently completed the Devizes to Westminster canoe marathon together.
They are not averse to adventure and challenge. Capt Reid attempted to break the world's longest continuous crawling record and swam the English Channel in 2008 but has never rowed in earnest.
Meanwhile, Capt Dennison cycled from Land's End to John O'Groats in 2008 and rowed competitively at university.
Published 14 May 2010