Army Corporal honoured at Pride of Britain Awards
The bravery of an Army Corporal has been recognised at the Daily Mirror's Pride of Britain Awards. Report by Leigh Hamilton.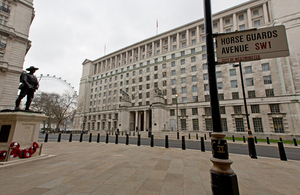 Corporal Carl Taylor MC, from 3rd Battalion The Mercian Regiment, was presented with an Outstanding Bravery Award by comedian John Bishop and TV personality Myleene Klass at the star-studded ceremony which took place in London on Monday evening.
Cpl Taylor was a section commander at Patrol Base Attal in Helmand province last year when his act of bravery took place.
In March 2011, six weeks into his seven-month tour, Cpl Taylor's patrol came under attack in the village of Pupalzay. When the soldiers took cover they found two terrified women whose sons had become separated from them during the Taliban attack.
The three young children were scared to move because of the incoming fire from the insurgents and were trapped 80 feet (24m) away from their mothers.
Thinking nothing of his own safety, Cpl Taylor dashed to help the boys and picked up one of the children and dashed back, all the while dodging enemy bullets. Once one child was safe, Cpl Taylor and Army Captain James Cook returned to rescue the other two children.
Returning to the safety of the compound unscathed, Cpl Taylor was able to reunite the children with their terrified mothers. Earlier this year he was awarded the Military Cross for his bravery.
Cpl Taylor said:
It was just instinct. I saw them and I didn't have a lot of time to think about it; instinct took over and it just went from there really.

Afterwards I thought about it properly and thought it could have been a bit close. You don't get time really to think about individual moments as it's such a long time out there.

The mothers were really grateful. They were just really happy that their children were back with them and they made us all a cup of tea.

When you're put in that situation I would like to think that any person would do the right thing and that was what it was really.
At the awards ceremony, Cpl Taylor spoke of how pleased he was to be there:
It's hard to take it all in really. Being here, seeing all the celebrities and all the other people who won awards is just a good day. I was really chuffed when I heard it was Myleene and John who were going to present my award.

I'm absolutely chuffed. It's just great and I'm really overwhelmed to be here. I've been flapping about it but now I'm here I've relaxed a bit.
Comedian John Bishop presented the award to Cpl Taylor. He said:
The thing is with someone like Carl, they've benchmarked for everyone else really. You just look at it and hope that everyone would react in the same way, you'd hope that you could be as good a man. That's what you hope for in life, to see some people and emulate them.

Within many fields of your profession you seek recognition but what happened with Carl wasn't one of those situations, it was just instinct and all this came afterwards, and I think that is the kind of thing that people need to put into context.

This is a long, long, long way away from that split-second when he made the decision to go and save those kids.
Amongst the other award winners at this year's Pride of Britain Awards were Southampton City Council Leader Royston Smith and Chief Executive Alistair Neill. These two men were recognised for their bravery on the day that sentry Ryan Donovan fired rounds from his SA80 rifle at his colleagues on board Royal Navy submarine HMS Astute.
Mr Smith and Mr Neill were visiting the vessel in Southampton in April 2011 and were being given a tour by Lieutenant Commander Ian Molyneux. Lt Cdr Molyneux was shot dead when he confronted the shooter. Lieutenant Commander Chris Hodge was also shot in the stomach.
As well as six dignitaries visiting the submarine, there were 11 children standing dockside. Mr Neill explained:
I'd been talking to Ian. He told me how hard it was for him to be apart from his family when he was working. Seconds later I was staring at his dead body. That's when I turned to the side and braced myself for a hit.

I heard the gunshot and prepared for pain. I stared in horror as Chris was shot instead and slumped to the floor. There was blood everywhere.
Disregarding their own safety, the two civilians launched themselves at the shooter. The altercation seemed to last forever:
I eventually managed to get the gun from him as Alistair pulled him to the ground. It must have lasted seconds, but it felt like hours," said Mr Smith.
Ryan Donovan was jailed for life for murder and attempted murder. He must serve a minimum of 25 years.
During this year's Pride of Britain Awards ceremony, many celebrities were keen to voice their support for the work being carried out by members of the Armed Forces.
Sir Ian McKellen said:
I'm in two minds about fighting, I don't like it any more than anybody else and when it doesn't sometimes seem to be necessary you despair.

But that young men can come through it, and women, and today civilians as well, there's something about the human spirit which will not give in under the most dreadful circumstances.

When bravery involves generosity towards other people it is particularly spectacular.
Boxer Nicola Adams, who won a gold medal at this year's Olympics, said:
They do so much for their country, they're risking their lives going away to war, so I think they're fantastic. I'd like to say be careful and hopefully get home safely.
Nick Hewer from TV show 'The Apprentice' said:
I think they're wonderful and they do us credit so I think we should care for them a great deal more than we have done in the past. It's great that we are now caring for them, things like Tickets for Troops and Help for Heroes are brilliant. I am an absolute supporter, really I am.
Ex-footballer Jamie Redknapp said:
I don't think I could do what they do. I would be scared, I can't lie. It would be very easy for me to say 'oh yeah, I could do it'. I think what they do, putting themselves at risk every day that they go out on patrols, is inspiring.

I don't think I could be brave enough. I've got the utmost respect for them and what they're doing. We all just hope they come home safe, that's the important thing.
Swimmer Rebecca Adlington, who won an Olympic bronze medal this year, said:
Keep doing such an amazing job. They're incredible. I just don't know how they do it to be honest. They're definitely the heroes in our eyes and they're the role models definitely.
James Arthur from TV show 'The X Factor' said:
Keep up the good work. The things you hear all the time about the bravery that they show is just unbelievable and I hope that continues for a long time and that we keep on honouring these brave guys for what they do.
Olympic diver Tom Daley said:
The people in the Armed Forces who have been protecting our country are absolutely incredible. I take my hat off to them every day and they're in my thoughts all the time.
Published 31 October 2012