Army chef honoured for outstanding work in Afghanistan patrol base
A Royal Logistic Corps chef who volunteered to serve in a patrol base in Afghanistan has been awarded the Food Services Warrant Officer Trophy 2010 for his outstanding work.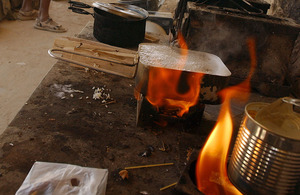 Lance Sergeant Graham Jackman put himself forward for the gruelling deployment during Operation HERRICK 11 after the Commander of 3 Company, 1st Battalion Coldstream Guards, located in Patrol Base (PB) 3, Babaji, recognised the importance and enormous benefit that catering support would have for his soldiers.
LSgt Jackman exercised with the company, passed a team medic course, and received training on a host of weapon systems before being deployed; but even this extensive training did not fully prepare him for the task he faced:
When we got dropped off by the Chinook on the helipad at the base and it took off, my first reaction was just that 'this is really surreal'," LSgt Jackman said.
I was excited at first, and, as we arrived in the PB, I thought to myself it will be all right because I thought we would have the facilities there to do some cooking, but it was to my surprise that we got in there and realised that actually there was nothing in there. It was all being built by the engineers so we had to search around and find what we could.
At first it was a case of collecting together all the ammo boxes for improvised cookery and using all the things we have been taught over the years but never thought we would have to use.
So I set my kitchen up next to an ammo bunker - though it wasn't an ammo bunker at the time - and was just feeding people using ammo tins. Then after a while with each resupply we would get little bits and bobs that the Master Chef would have loaded on and we slowly got our cookhouse set up.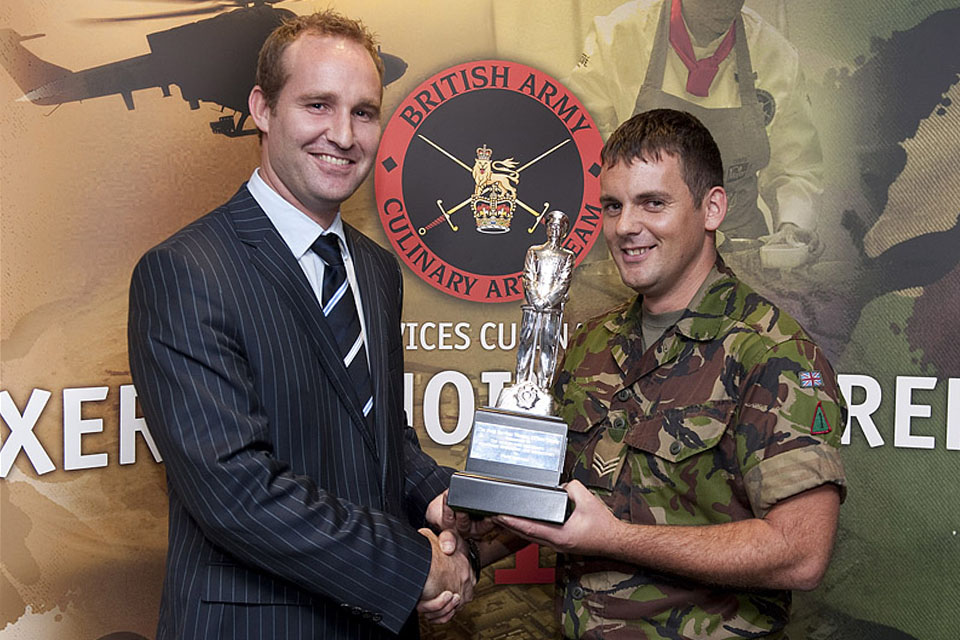 Using two Number 5 cooksets, a couple of six-gallon (27-litre) pots, a few improvised pans and a poncho, LSgt Jackman was soon supporting some 160 soldiers on his own, using mainly ten-man operational ration packs.
Initially, LSgt Jackman provided a hot breakfast every day with fresh bread and three to four hot dinners every week.
The ethos of chefs within the Royal Logistic Corps is that they are soldiers first and chefs second, so LSgt Jackman also supported the company in an infantry role, conducting patrols with the company and finding himself involved in contacts with the enemy on numerous occasions:
My first ever patrol with the lads was a bit surreal," LSgt Jackman said. "They offered me the chance to go out and I said 'yes' thinking it would be a routine patrol… well, I suppose it was a routine patrol for them!
It started at half [past] three in the morning, and the first thing we had to do was cross a bunker, and I was the last man. It was hard to get across there, so that was an eye-opener - knowing I had to do a further nine-hour walk around Babaji while taking up various positions.
And then my first ever contact occurred - which was massively hairy. I volunteered to get on a roof and within 30 seconds of getting on the roof it all went mad.
LSgt Jackman's Company Commander described his actions in the face of the enemy as 'extremely courageous and utterly professional'.
Back in camp, as further equipment arrived, LSgt Jackman was able to re-site his makeshift kitchen under more suitable but improvised shelter, and constructed an outstanding kitchen/dining area. He made tables and chairs from planks of wood and ammunition boxes and created a social area for troops to relax.
Christmas saw the first arrival of substantial fresh rations and he produced a roast turkey dinner with starter and pudding for more than 200 personnel.
From then on, LSgt Jackman received fresh rations on a weekly basis to sustain five days of meals combined with two days' operational ration packs:
I made bread, and that seemed to be the most popular thing with the lads," he said. "We had to just use ration packs at first and it was bread that everyone was missing.
His day often started at 0200hrs so that he could provide outgoing patrols with a hot breakfast and again on their return. LSgt Jackman selflessly, and with high spirits, sustained this gruelling routine for a further four months:
When I tell people, they don't believe I did it," he joked. "Sometimes I don't believe it myself!
LSgt Jackman's professionalism was underlined when, towards the latter end of the tour, a suicide bomber detonated himself in the busy market place some 100 yards (90m) from the patrol base.
LSgt Jackman was one of the first on site to provide medical support. On arrival at the scene, he witnessed utter carnage and panic. 37 local people had been killed in the blast, including women and children, and more than 60 were wounded, with injuries ranging from burns to missing limbs.
LSgt Jackman worked tirelessly for the best part of the day treating the wounded and assisting with the disturbing and nauseating clean-up afterwards.
Nothing could have prepared him for this complete devastation but his citation states that LSgt Jackman demonstrated 'outstanding courage and professionalism throughout this harrowing event and contributed extensively to the preservation of human life'.
On returning to the patrol base later that night, LSgt Jackman continued preparing dinner for the company as usual.
For his contribution, LSgt Jackman was awarded the Food Services Warrant Officer Trophy at the end of the tour - an honour which recognises him as an inspirational role model for all young Royal Logistic Corps chefs.
Published 5 November 2010