Army bomb specialists welcomed home from Helmand
Essex-based explosive ordnance disposal (EOD) specialists received a rousing welcome as they marched through Saffron Walden to mark their return from Afghanistan.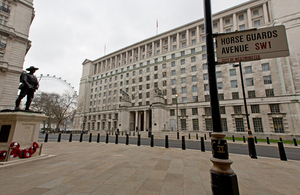 Hundreds of people lined the streets as the soldiers from 17 Field Squadron (EOD), part of 101 (City of London) Engineer Regiment (EOD), paraded through the East Anglian market town having been granted the honorary Freedom of Uttlesford.
The Wimbish-based search teams and their advisors were joined on parade by fellow soldiers from the Corps of Royal Engineers and the Royal Logistic Corps, who together formed the Counter-Improvised Explosive Device (C-IED) Task Force in Afghanistan during Operation HERRICK 14.
Working in teams, the soldiers undertake one of the most dangerous and demanding jobs in Afghanistan - to find and isolate IEDs.
Addressing the parade, Commanding Officer Lieutenant Colonel Mark Budden said:
Our successes over the last seven months speak for themselves.
We have destroyed 530 IEDs and seven tonnes of homemade explosive. We have mentored the Afghan national counter-IED capability and rolled out over £20m worth of new equipment.
It has come at cost. The deaths of Captain Lisa Head and Technical Sergeant [Daniel] Douville of the United States Air Force were tragic blows to the Task Force. Both were highly skilled operators, dealing with deadly devices, striving to clear the way for others. Their professionalism and selfless sacrifice rightly ensures their place amongst the bravest of the brave.
Speaking about the parade, he said:
It is a huge honour to be able to accept the Freedom on behalf of the regiment. It has been a challenging and rewarding six-month tour. Every soldier has shown determination and fortitude and has faced the challenges head on. The granting of the Freedom is a fitting finale to the end of the tour, and we thank the local community for their support.
Following the freedom parade the C-IED Task Force returned to Carver Barracks to receive their Op HERRICK campaign medals.
101 (City of London) Engineer Regiment (EOD) has been based in Carver Barracks, Wimbish, since April 2010. 33 Engineer Regiment (EOD), also based at Carver Barracks, received the honorary Freedom of Uttlesford in 2009.
Published 17 October 2011