Army assisting Libya operations with RAF
British Army personnel are taking to the skies over Libya in RAF Sentinel aircraft, helping gather essential intelligence in support of NATO-led operations to protect civilians on the ground below.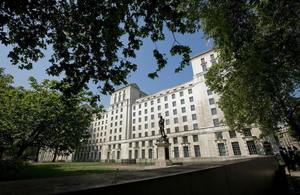 Among the Royal Air Force ISTAR (Intelligence, Surveillance, Target Acquisition and Reconnaissance) squadrons enforcing the UN mandate in the north African country is 5 (Army Cooperation) Squadron - a tri-Service set-up.
Within 24 hours of combat operations beginning, the Sentinel R1 aircraft, flown by 5 (AC) Squadron, was using its sophisticated array of onboard sensors to surveil the unfolding situation and acquire ground targets.
The unit's Chief of Staff, Major Ian Strong, said that around ten British Army personnel are among those supporting the mission (Operation ELLAMY). He said:
We have got four or five of them operating as ground image analysts and the remainder working in the air on the Sentinel.
Unlike Op HERRICK, Op ELLAMY is a more air-centric deployment. Major Strong added:
The team finds and tracks pro-regime armour using moving target indicators. They are also looking at radar pictures to determine whether an airfield is in use or being obstructed.

The aircraft uses a sophisticated array of sensors to surveil and acquire ground targets. The resulting information is then brought back to the UK for analysis.
Squadron boss, Wing Commander Rich Barrow, said:
The use of ISTAR and intelligence in particular to try and understand [unusual] situations, to gain insights into what's going on on the ground is absolutely essential.

Only with that information can we go into action with the confidence that we are doing the right thing and ensuring the right outcomes.
5 (Army Cooperation) Squadron RAF is a 370-strong squadron with 110 British Army personnel drawn from across several different cap badges including the Royal Signals, Royal Electrical and Mechanical Engineers and the Intelligence Corps.
_The above article is taken from the May 2011 edition of SOLDIER - Magazine of the British Army.
_
Over recent days, NATO's Operation UNIFIED PROTECTOR, to protect Libyan civilians under threat of attack and enforce United Nations Security Council Resolution 1973, has continued at a high tempo, with the UK Armed Forces making a significant contribution.
At sea, the destroyer HMS Liverpool, whilst engaged on surveillance operations off the Libyan coast, was tasked with other NATO warships to intercept small, high-speed inflatable craft spotted approaching the port of Misurata; similar boats have previously been used by the regime to attempt to mine the harbour.
The regime artillery on the coast fired an inaccurate salvo of rockets at Liverpool, whereupon she immediately returned fire with her 4.5-inch (11.5cm) gun, which silenced the shore battery. As a result of the prompt action by HMS Liverpool and the other NATO warships, Colonel Gaddafi's boats abandoned their operation.
Tornado and Typhoon ground attack aircraft from the Royal Air Force patrolled over the besieged city of Misurata on Monday, and attacked a number of regime targets in the area, damaging or destroying two mobile radar systems, two multiple rocket launchers and a main battle tank. On Tuesday, RAF aircraft attacked a surface-to-air missile system and anti-aircraft artillery near Bani Walid, before causing severe damage to a large military vehicle depot near Tripoli, using GPS-guided Paveway bombs to hit the target despite cloud cover.
On Wednesday, RAF aircraft successfully attacked a total of five mobile radar systems and one surface-to-air missile launcher in two separate strikes near Tripoli and Sirte.
Published 12 May 2011