Army Apache crew members honoured for actions over Libya
Members of the team that controlled and flew Army Apache helicopters during Operation ELLAMY over Libya have been honoured for their actions.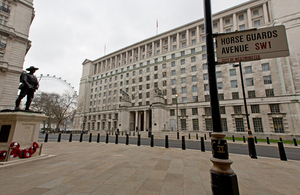 Usually based at Wattisham Airfield in Suffolk, Major Mike Neville received a Queen's Commendation for Valuable Service for his leadership and bravery under attack in Libya while Warrant Officer First Class 1 Jonathan Lane, a front seat Apache commander received a Mention In Dispatches, the oldest form of recognition of gallantry within the UK Armed Forces.
Both men are members of 656 Squadron, of 4 Regiment Army Air Corps, who had been on HMS Ocean in the Mediterranean learning to operate the Apache off Royal Navy ships when they were retasked to take part in operations over Libya as part of NATO's Operation UNIFIED PROTECTOR.
Apache fly slower and lower than any UK aircraft in theatre and are consistently within a two-kilometre range of the enemy.
Despite the risk, Major Neville encouraged and commanded his aircrews to attack a well-equipped enemy armed with more than 20,000 man-portable surface-to-air missiles and in excess of 1,000 anti-aircraft artillery (AAA) pieces.
On 22 missions the Apaches commanded by Major Neville hit more than 100 targets, firing 99 Hellfire missiles and 4,800 30mm cannon rounds.
Major Neville flew on ten of these operations and his Apache was routinely targeted by small arms fire as well as SA-24 missiles. In one of these attacks he was targeted as he was engaging an enemy communication network, but continued to see his task through while making sure there were no civilian casualties.
On another occasion 30 miles inland - and therefore with very little chance of a quick rescue if he was shot down - his helicopter came under anti-aircraft fire. Again Major Neville continued on with his task, and only returned to HMS Ocean when he had achieved his mission.
The threat to Major Neville and his crew was unprecedented and his actions set the standard for other Apache crews throughout the tour.
The citation states:
It is his outstanding bravery in command, while understanding the risk he takes on every mission, that make him a remarkable officer and worthy of recognition.
Major Neville said:
I am immensely proud to receive this honour. It is about recognising 18 months of work to build a team to achieve a challenging task that I never expected to be putting into action myself. The air and ground crews under my command faced unprecedented professional demands but achieved all that was asked of them.

We were operating in a high-threat environment and flying low, fast and at night to mitigate the risks. Despite these challenges, we hit all the targets given to us without any of our helicopters being damaged or any injuries to our crews.

For the engineers, working on a ship presents difficulties of space and the volume of spares and equipment that can be carried. But through their hard work, aircraft were available for every mission and they all took off with all systems working perfectly.
In the event for which WO1 Lane was awarded his Mention in Dispatches, he was a front seat aircraft commander in the second pair of Apache helicopters directed to target an enemy command and control centre between Misurata and Zlitan.
As the helicopter began its attack run, WO1 Lane was engaged by an SA-24 Surface to Air missile. Holding his nerve as the missile soared towards him, he was able to identify its firing point before using the aircraft's flares to decoy the missile and return fire.
WO1 Lane does not mind admitting to being genuinely in fear of never seeing them again in the seconds before the flare drew the missile away from the Apache.
He said:
It all happened really quickly, probably about five to six seconds, but as I saw the missile heading for us, I did think this could be it.

Although I had come under small arms fire and anti-aircraft artillery attack before, this was the first time I had experienced a surface to air missile and, despite going through that scenario in a simulator, it was a real shock.
The flare was deployed and I watched as the missile swerved at the last second. The adrenaline was pumping, my heart was thumping out of my chest.
There was a sense of tremendous relief, followed by the realisation that it could happen again so we broke away from that zone but still had another aircraft engaging the target in that area.
WO1 Lane had to make the decision to go back, identify the enemy, and neutralise the threat:
It was very frightening," he said. "We had got away with it once. We did not know what else was there but knew the assets the enemy had access to.

But because of the kit on the aircraft, we had been able to pinpoint the enemy position quickly after they fired on us. We found a rocket launcher which had been used to shoot at ships off the coast and destroyed it.
His actions allowed the helicopters to carry on with their original mission before returning to the missile firing point to destroy its capabilities.
WO1 Lane is no stranger to enemy fire having served two tours in Afghanistan and six in Iraq. His aircraft have been hit three times by small arms fire. On one occasion a bullet flew into the cockpit, went through his visor and out through his helmet, miraculously leaving him with just a shrapnel wound.
As a result, this is WO1 Lane's second Mention In Dispatches and he also has a Queen's Commendation For Bravery.
Published 26 March 2012