Army and Navy support National Apprenticeship Week
A soldier has been talking this week about how his apprenticeship has helped him keep Apaches flying over Afghanistan, while HMS Raleigh has been showcasing their apprenticeship training to local schools and colleges.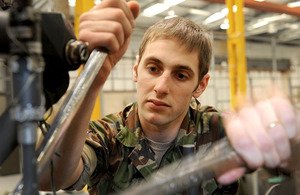 Corporal Mike Lacchin, of Wattisham-based 7 Air Assault Battalion Royal Electrical and Mechanical Engineers (REME), completed an advanced apprenticeship in mechanical engineering as part of his training. This he says, gave him the 'knowledge and confidence' to maintain the Army's Apache attack helicopters in Afghanistan.
Corporal Lacchin, aged 25, from Gloucester, joined the Army in 2007 and started his apprenticeship while training at the Army's School of Electronic and Aeronautical Engineering in Arborfield, Berkshire. The following year he joined 7 Air Assault Battalion REME, which maintains the Army's helicopters and unmanned aerial systems. He said:
At the unit, my apprenticeship was all about demonstrating that I could apply the theory that I had learnt in the classroom. I had to give examples where I had found, diagnosed and fixed a fault on a helicopter.
Soon after completing his apprenticeship in 2010 Corporal Lacchin deployed to Afghanistan:
The apprenticeship gave me the knowledge and confidence to do my job in Afghanistan," he said. "The work is at a higher tempo and the hot and dusty environment presents different mechanical challenges, but it's more rewarding because you can really see the value of what you do.
The infantry out on the ground value the support and protection that an Apache gives them, and our job is to make sure the Apache can fly.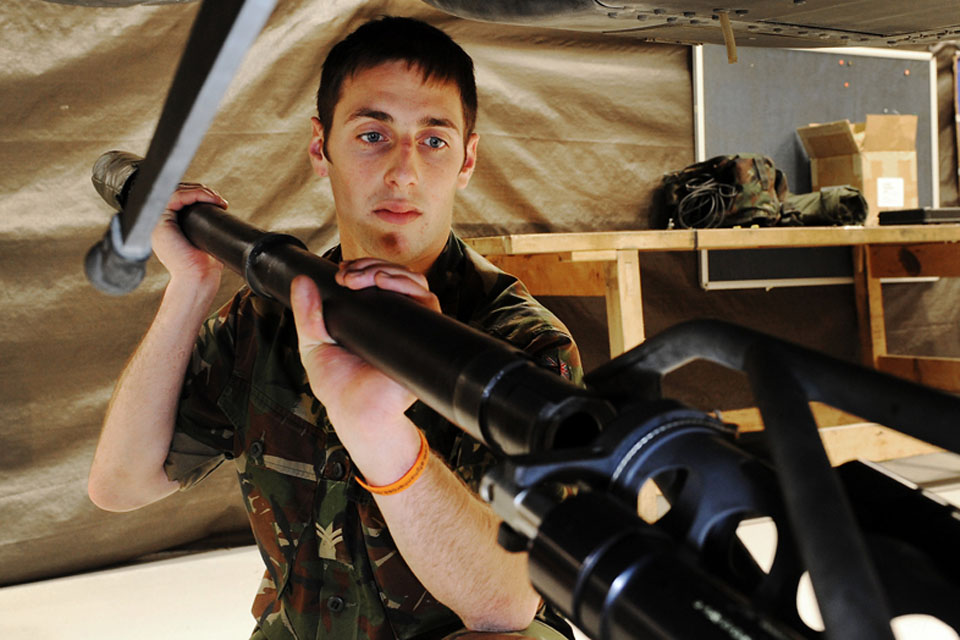 Corporal Lacchin is continuing his training and is due to go on courses to teach him specialist airframe repair skills before deploying to Afghanistan again this year. He said:
The apprenticeship has given me the foundations to work from and it gives the option to continue my studies and do a degree in mechanical engineering.
The Army has the largest National Employer Apprenticeship Scheme in the UK, with more than 12,500 soldiers on an apprenticeship at any one time. There are 43 different Army apprenticeship programmes, spread across the country, ranging from telecommunications and aeronautical engineering to animal care and policing.
Colonel Peter Russell, the Army Apprenticeship Programme Executive, said:
The Army apprenticeship programme gives soldiers a great opportunity to learn useful skills, valued by civilian employers, whilst earning a good salary.
Army training is second-to-none and the apprenticeship programme delivers more than 8,000 successful completions per year with a success rate of 88 per cent, which is 17 per cent above the national average.
At HMS Raleigh this week, careers advisors from local schools and colleges have been given an insight into the Royal Navy's approach to apprenticeship training.
During a day at the Royal Navy's training base in Torpoint, organised as part of National Apprenticeship Week, the visitors were given a tour of the facilities and were able to watch recruits undergoing instruction.
All Royal Navy recruits are given the opportunity to undertake an apprenticeship. The ten-week initial naval training course for new recruits forms part of a UK Armed Forces apprenticeship and incorporates the NVQ diploma in Public Services.
Recruits undergoing their specialist training at the Defence Maritime Logistics School, based within HMS Raleigh, undertake apprenticeships in hospitality, warehousing and administration.
The Royal Navy also offers apprenticeships in engineering, ICT (Information and Communications Technology), air operations and healthcare at its other establishments located mainly in the Portsmouth area.
Among the visitors taking the opportunity to visit HMS Raleigh were careers advisors from All Saints Academy, Eggbuckland Community College, Notre Dame High School and Discovery College.
Mike Freeman, Vocational Director at All Saints Academy and the Executive of the Secondary Schools Plymouth Learning Trust, said:
It's been tremendous to actually see practical training in action in a number of different sectors here at HMS Raleigh, namely chef work, stewarding, stores accounting and administration.
I've been impressed by the discipline, the modern facilities and the investment that has gone into it, together with the wonderful opportunities available to the trainees. The idea of youngsters gaining naval experience as well as apprenticeship training brings out the best as they prepare for the working world.
The flavour of what we've been shown has been great, from generic stuff like fitness, firefighting, first aid and marching, to professional trade training. Overall it's been a real eye-opener and it's made me proud to see the Service in action.
Commander Sean Winkle, the Royal Navy's Apprenticeship Programme Contract Manager, said:
Whilst the thrust of National Apprenticeship Week is to promote the value of providing apprenticeships to employers, I am especially interested in highlighting to young people leaving schools at 16 or 18 that the training provided by the Navy is much more than learning the skills we need as part of a fighting arm of the nation's military forces.
It also offers an array of valued trades and an opportunity to get a number of nationally-recognised qualifications, many of which are provided through the apprenticeship programmes.
Published 10 February 2012