Army and Navy rowers selected for Olympic team
Royal Naval Officer Lieutenant Pete Reed and Army officer Captain Heather Stanning have been officially selected to compete for Team GB at the 2012 Olympics, it has been announced today. Report by Lorraine McBride.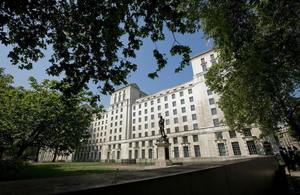 The announcement that the two British military officers will be part of the Team GB rowing squad and compete in the Games comes with just 51 days to go until the start of the London 2012 Olympics.
The rowing events are tipped to provide Britain with its strongest chance of success at the Games.
Lieutenant Pete Reed
Lt Reed won an Olympic gold medal as part of the Men's Four in the 2008 Beijing Olympics and will be defending his medal in the same event in London alongside Alex Gregory, Andrew Triggs Hodge and Tom James.
Between 2004 and 2008, 31-year-old Lt Reed became Olympic Champion and double World Champion in the coxless fours, and pulled off an unbeaten run of winning 27 international races.
Despite being among Britain's brightest medal hopes this year, Lt Reed dismisses any suggestions that the team must be a gold medal certainty. He said:
We've got a lot of work to do and, if we start believing that, it's very dangerous. There is massive talent in the coxless fours this year. Everyone is raising their game.
But, he added:
We'll be doing everything we can to make the nation proud in August. It's an opportunity to be part of history, to realise every sportsman's dream, and to win gold in a home Olympics would be spectacular.

It's going to be a massive challenge and we're really ready. It's just so exciting. There's a good feeling in the team at the moment.
Lt Reed believes his officer training at Britannia Royal Naval College Dartmouth has been vital in shaping him into the sportsman he is today:
At Dartmouth I learnt about teamwork, determination and dedication, having enthusiasm for what I'm doing - and those things are exactly what I'm using every day to get the job done," he said. "I don't think I could have done this sport for as long as I have if I hadn't gone through Dartmouth.
And the Armed Forces have backed Lt Reed's rowing career ever since:
I can't quite find the words at the moment to describe how supportive they've been," he said. "I wouldn't be rowing if it wasn't for the Navy; I'd be doing the career that I signed up to do and got my teeth stuck into before I'd even started rowing, or before I'd even taken a stroke on the rowing machine.

To have them backing me is wonderful, and to have the Senior Service on your back when you're training each day and to be as proud as I am to be wearing the White Ensign spurs me on. It's something that will be with me as I cross the finishing line.
Captain Heather Stanning
Captain Heather Stanning, who will make her Olympic debut this year with partner Helen Glover in the women's coxless pairs, said:
It's amazing to be selected to represent my country at the Olympics. This is what I have been working for the last two years of my life.
Fresh from winning gold in the World Cup regattas in Belgrade and Lucerne, Royal Artillery officer Capt Stanning and crewmate Helen Glover hope to use their victories as a springboard for success in the Olympics:
It's very exciting to be part of this," said Capt Stanning. "But, at the same time, every day is a really important training day, and there is so much we can do between now and then.

I'm trying not to think too much about it because if I start getting nervous, then I'm going to be a nervous wreck," she added.
Capt Stanning's major breakthrough came with Helen Glover at the 2010 World Rowing Championships in New Zealand, when the pair doggedly hung on to the coattails of reigning world champions New Zealand to win silver.
Prior to that, Capt Stanning had won gold with Olivia Whitlam at the 2007 World Under-23 Championships, despite having only joined the GB rowing team's start programme the previous year.
The daughter of Navy officers, Capt Stanning had hankered after a military career since her mid-teens, and won a sixth-form Army scholarship at Gordonstoun School. She was commissioned from Sandhurst in 2008.
In 2010, Capt Stanning was released from Army duties to allow her to row full-time:
The Army have been absolutely superb," she said. "32 Regiment Royal Artillery carried on following me and I've popped down to see them when I can or they pop down to see me. They've been fantastic about making sure I'm okay, still enjoying it and looked after, and getting what I want from it.
The Chief of the General Staff, General Sir Peter Wall, said:
Heather Stanning's selection for the British rowing team is brilliant news, and thoroughly deserved. All in the Army wish her the best of luck in the Olympic Games.
A former troop commander, Capt Stanning will return to Army duties in September.
First though, there is the small matter of the Olympics to get out of the way and, come the summer, Lt Pete Reed and Capt Heather Stanning may pull off sport's Olympic dream and be the pride of Britain.
Published 6 June 2012