Armed Forces train for Olympics air security
Exercise Taurus Mountain 3 is putting airmen, soldiers and sailors through their paces in the skies over North Yorkshire. The exercise takes…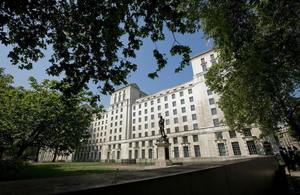 Exercise Taurus Mountain 3 is putting airmen, soldiers and sailors through their paces in the skies over North Yorkshire. The exercise takes place from 20 to 22 March and, over the three days, the forces will practise detecting and intercepting an aircraft that intrudes into restricted airspace.
The Air Security Plan for the Olympic Games builds on the Royal Air Force's existing defence of UK airspace, which includes round-the-clock radar surveillance and Typhoon fighters held at high readiness every day of the year.
The exercise integrates the additional forces being used to ensure the safety of the Olympics, as part of the Ministry of Defence's role to ensure a safe and secure Games this summer. These include RAF Puma aircraft - together with Royal Navy and Army Lynx helicopters - carrying teams of RAF Regiment snipers to intercept aircraft in restricted airspace, and airborne surveillance aircraft including Royal Navy Sea King Airborne Surveillance and Control helicopters and RAF E-3D Sentry aircraft.
On the ground, the RAF is providing additional mobile ground radar systems, while the Army is deploying air observers and Rapier and Starstreak missile systems, which also provide additional detection capability, though a final decision on their deployment has yet to be taken.
Armed forces personnel will be joined by officers from the Metropolitan Police, who are leading security for the whole Games. Military activity, including the Air Security Plan, supports the overall police operation, so the exercise is a chance for both the police and military to learn more about how the other operates.
Air Commodore Gary Waterfall, the Deputy Air Component Commander, said:
Whilst there is no specific threat to the Games, we have to be ready for whatever occurs and play our part in what will be a safe and secure Olympics for all to enjoy.

Our multi-layered security plan means that we have a range of responses available to us, ensuring we can deal appropriately with anything from redirecting an aircraft that may have strayed into restricted airspace, to preventing an attack.
We need your help! We are trying out designs for a new single website for all of government and we'd love your feedback. Please visit the 'Government beta site' by clicking on the link under Related Links.
Published 20 March 2012