Armed Forces to mount spectacular tribute for Queen's Diamond Jubilee
Nearly 2,500 troops from the Royal Navy, the Army and the Royal Air Force will parade through Windsor in the presence of Her Majesty and the…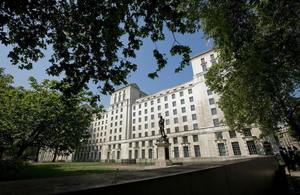 Nearly 2,500 troops from the Royal Navy, the Army and the Royal Air Force will parade through Windsor in the presence of Her Majesty and the Duke of Edinburgh.
They will then muster in the castle grounds for a unique event before an audience of more than 3,000 Armed Forces personnel, their families, and veterans. An impressive, tri-Service flypast of current and historic aircraft will conclude the celebrations.
Chief of the Defence Staff, General Sir David Richards, said:
Her Majesty The Queen's support and encouragement over the years has created a very special bond between our monarch and her forces. That link is felt by all those who have the privilege to wear Her Majesty's uniform both in the UK and on many varied operations overseas.

The parade and muster will truly be a day to remember. It is an opportunity to highlight the unique relationship the Queen has with the men and women of the Armed Forces and the role she fills in our lives.
The custom of the Armed Forces paying tribute to the monarch during a jubilee year is an established tradition. Similar celebrations were held for the Diamond Jubilee of Queen Victoria, the Silver Jubilee of King George V, and the Silver and Golden Jubilees of the present Queen.
To celebrate Queen Victoria's Diamond Jubilee in 1897, a Fleet Review was held at Spithead, Hampshire, and a Grand Military Tattoo was performed for her at Windsor.
King George V reviewed all three Services (the Royal Air Force had been founded in 1918) at separate events for his Silver Jubilee in 1935.
For the present Queen's Silver Jubilee in 1977, Her Majesty attended a Fleet Review at Spithead, a review of the Army in Sennelager, Germany, and a review of the Royal Air Force at RAF Finningley, South Yorkshire, with further visits to the Royal Marines and Cadet Forces.
In 2002, a tri-Service event was held at Whale Island in Portsmouth for her Golden Jubilee.
The parade and muster in Windsor will be the first time all three Services have visited the Queen for a dedicated event, and will be broadcast by BBC Television. Further details, including information on those marching in the parade and the aircraft taking part in the flypast, will be released in due course.
Published 15 February 2012