Armed Forces support Ten Tors teenagers
Despite bad weather threatening to rain off the event, 2,400 youngsters aged between 14 and 19 tackled treks of 35, 45 or 55 miles (56, 72 or…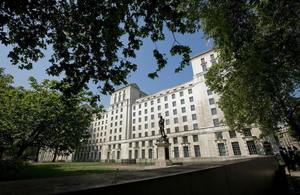 Despite bad weather threatening to rain off the event, 2,400 youngsters aged between 14 and 19 tackled treks of 35, 45 or 55 miles (56, 72 or 89km) as part of one of the biggest adventure challenges for young people in Britain.
Working together in teams, the participants had to carry all their kit and camp out overnight on the moor, and their navigational skills had to be up to scratch in order to take them from tor to tor and safely back home again via steep climbs and boggy ground.
Although the Ten Tors Challenge is an Army-organised event, personnel from the RAF and the Navy also assisted over the weekend, as well as teams from the emergency services, including the British Red Cross and the Dartmoor Rescue Group. In all, 1,000 personnel were on duty over the Ten Tors weekend.
Everyone working on the challenge goes the extra mile to make sure the event is as enjoyable and as safe as it can be for the thousands of youngsters taking part, but it also provides the Army with a unique and invaluable training opportunity to practice its crucial civil contingency responsibilities.
Staff officers plan for the unexpected and troops - both Regular and Territorial Army - are required to react quickly to assist up to six thousand participants and spectators, no matter what the weather conditions.
Ten Tors also plays an important role in developing our Service personnel to their fullest potential and enables them to learn vital skills which can be used to help wider society at times of crisis.
As an example, a number of those on duty over the Ten Tors weekend will be mobilised to support the Olympic events in Weymouth and London.
Although Ten Tors isn't a competition, the first to cross the finish line just before 0900hrs on Sunday morning was the Torquay Boys' Grammar School 45 Mile Team.
Team Captain Noah Sprent said:
It's amazing really, we walked most of yesterday, but we weren't expecting to be the first back but it's fantastic. We've got really great trainers and it makes all the difference having people who know the moor and all our teachers have been so supportive - we wouldn't have done it without them definitely.

I think doing Ten Tors is really good, as it gives you something to train for all year, and it sets you apart from everyone else. All the Army people are really friendly on the tors and we've had a laugh along the way.
Running alongside the Ten Tors Challenge was the Jubilee Challenge for nearly 300 youngsters with special physical or educational needs - many of whom used wheelchairs or trikes.
They took on routes of up to 15 miles (24km), as part of a team or as individuals, each one accompanied by an Officer Cadet from Exeter University Officer Training Corps.
Many troops who were on duty during the Ten Tors weekend are in the Reserve Forces, and included some from the Royal Wessex Yeomanry, 155 Transport Regiment and 6th Battalion The Rifles.
Helicopters from Yeovilton provided support throughout the weekend with a Lynx Mk8 from 815 Naval Air Squadron and two Sea King Junglie Commando Helicopter Force aircraft from 848 Naval Air Squadron.
Over the weekend the helicopters carried more than 50 underslung loads to the tors, resupplying items from jerry cans of water and rations to radio equipment and safety stores.
The helicopters also lifted over 500 people to remote outcrops on the moor, reaching the most inaccessible corners, many miles from roads or the rough tracks which criss-cross the landscape.
There were more than 40 minor casualties airlifted off the moor, either back to the base camp at Okehampton or straight to Derriford Hospital in Plymouth. All the casualties returned to their starting teams.
Commander Richard Sutton, 848 Naval Air Squadron's Commanding Officer and also one of the helicopter pilots for Ten Tors, said:
We train and fly over Dartmoor quite a lot, and it can produce some really awful weather. Ten Tors gives us an ideal chance to train with real people in real situations.
As the Jubilee Challenge and Ten Tors are daunting for the young men and women taking part, many trained hard for months to make sure they were fit enough to participate.
Brigadier Piers Hankinson, Director of Ten Tors and Commander of 43 (Wessex) Brigade, said:
For more than 50 years the annual Ten Tors Challenge has shaped the values, attitudes and fitness of thousands of young people - it literally changes lives for the better.

Over those years, clothing, equipment and regulations will have changed, but the underlying challenge of walking unaided over the forbidding Dartmoor terrain remains as demanding today as it has ever been.

To complete Ten Tors and the Jubilee Challenge takes considerable commitment and determination, not just from the individuals and teams participating, but also from the adult team managers and group leaders whose selfless commitment and dedication bring the experience and love of the wild to new generations.
Published 15 May 2012