News story
Armed forces support Invictus Games
Serving members of the armed forces are on hand to support their injured comrades, helping to make Invictus Games an international success.
More than 500 members of the armed services have given their support to delivering the Invictus Games. Whether behind the scenes supporting athletes and their families from all the 13 competing nations, or front of house at the ceremonial events or the sporting venues, uniformed service men and women from all 3 services are there in support.
As well as medical and welfare support for athletes and families, service personnel are acting as stewards working directly with the public and helping the events run smoothly.
On Wednesday, more than 200 personnel performed in the thrilling opening ceremony. And others are delivering musical support throughout the Games and at the closing ceremony's climactic concert.
For many of them the Games has a special resonance as they know and have served with several of the British athletes taking part.
General Officer Commanding London District, Major General Ed Smyth-Osbourne, has overall command of the joint force. On the ground, the man in charge is the commanding officer of 1st Battalion The Royal Anglian Regiment, Lieutenant Colonel Dom Biddick.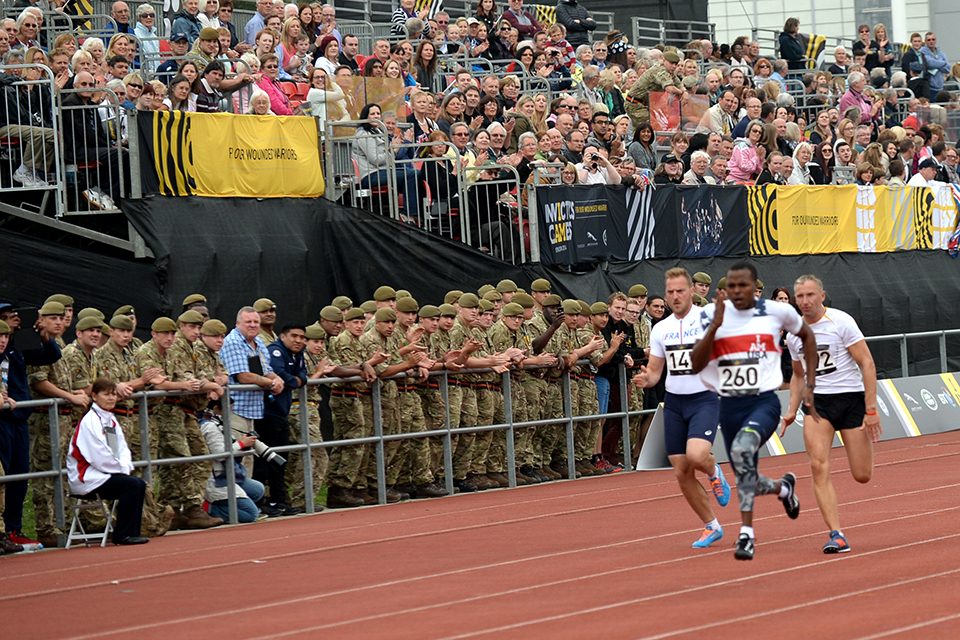 He said:
It is a real privilege to head up the military effort to support the Invictus Games and every man and woman under my command is hugely proud to be here. We feel deeply connected to the spirit of the Games because almost all of us have deployed on operations in Iraq and Afghanistan in recent years.

We've served alongside these athletes, they are our comrades, and we are more than aware of the sacrifices they've made. It is a source of pride for every one of us to ensure the Games run smoothly for both competitors and spectators alike.

As well as army personnel from across London and my own regiment, I've got 120 people from the other 2 services under my command and I'm really proud to be leading a joint force.

But I wouldn't be human if I didn't admit that the highlight of the event so far was when it was a soldier from my own battalion, Alex Tate, who won the first gold medal of the Games for the British team.
Lance Corporal Thomas Lowry, aged 22, of the Grenadier Guards is part of the tri-service team who has the honour of carrying the much-coveted gold, silver and bronze medals to the winners' podium for them to be presented to the victorious athletes.
He said:
Walking out there with the medals is just the proudest moment. I mean, just look around you at all these service personnel from all nations. They have all given and sacrificed so much and yet have turned their lives around to become incredible sportsmen. They are an inspiration and it's such an honour to be part of the Invictus Games.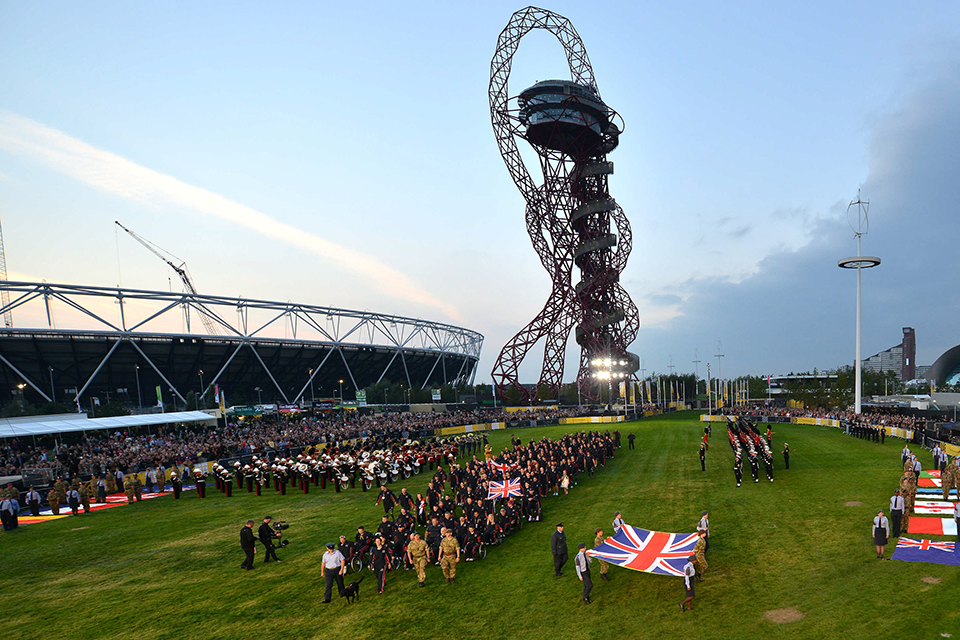 Corporal James Lawrence, aged 30, a cornet player in the Central Band of the RAF, said:
Invictus is a great event. It's an excellent cause. I've seen people at Headley Court when we've played there and the suffering they go through. It's humbling and harrowing but good to be able to support them here. This is a great celebration of their service and of their determination in their recovery.
Taking place between 10 and 14 September 2014, the Invictus Games were launched by Prince Harry to use the power of sport to inspire recovery, support rehabilitation of wounded service personnel and generate a wider understanding of and respect for those who serve their country.
Teams of wounded service men and women have come together to compete from Afghanistan, Australia, Canada, Denmark, Estonia, France, Germany, Georgia, Italy, the Netherlands, New Zealand, the UK and the USA. With 9 sports on offer, and gold, silver and bronze medals to aim for, the Invictus Games are an action-packed 4-day event and an inspiration for all.
Published 12 September 2014