Armed Forces support Diamond Jubilee River Pageant
Service personnel were out in force on London's River Thames today as part of the Diamond Jubilee River Pageant.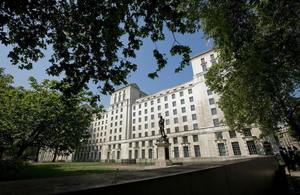 The Diamond Jubilee marks 60 years of The Queen's reign and various events are taking place over the central celebratory weekend of 2 - 5 June 2012 with a large contingent of military involvement.
One of the weekend's main events is the Diamond Jubilee River Pageant along the River Thames, which took place this afternoon.
Joining the Royal Barge, in which Her Majesty The Queen and His Royal Highness The Duke of Edinburgh sailed, was a seven-mile-long (11km) flotilla of over 1,000 vessels sailing along the central London stretch of the river.
The flotilla was divided into ten sections, with music herald barges separating each one.
Several vessels of the Royal Navy accompanied the Royal Barge. These were two Royal Navy P2000 boats, two Royal Navy picket boats, two rigid inflatable boats from HMS Diamond, and four off-shore raiding craft from 539 Assault Squadron Royal Marines.
A Band of Her Majesty's Royal Marines followed the royal section of the pageant in a separate vessel that included six buglers acting as herald trumpeters sounding a fanfare as the Royal party arrived and then each time the Royal Barge passed under one of the Thames' many bridges.
Speaking before the event, Senior Bugler Band Sergeant Sean Donoghue, who lives in Dartmouth, said:
I'm extremely proud to be taking part in the pageant. It's an honour and I'd say it will be the pinnacle of my career. I'm confident that, as a team, we will perform to the high standards expected of Royal Marines buglers.
The Honourable Artillery Company fired a Gun Salute for the Queen as the Royal Barge passed the Tower of London.
The Flotilla also included a World War Two RAF boat, usually on display at the RAF Museum, which was manned by current RAF personnel.
Another boat was rowed by a team representing BLESMA, the British Limbless Ex Service Men's Association. See the story at Related News about a soldier injured in Afghanistan rowing in the pageant to read more on this.
The final day of the weekend's celebrations will start on Tuesday morning with a Thanksgiving Service at London's St Paul's Cathedral and will involve hundreds of Armed Forces personnel in ceremonial roles.
Get the latest updates on the Diamond Jubilee events at the Defence HQ Twitter page. See Related Links.
Published 3 June 2012