Armed Forces play wins theatre award
A play starring several members of the Armed Forces has been awarded a prestigious theatre award.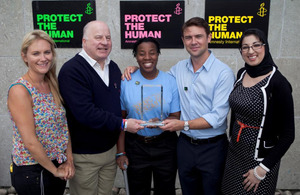 The cast of 'The Two Worlds of Charlie F' were yesterday presented with Amnesty International's Freedom of Expression Award for their portrayal of conflict, injury and recovery, and the challenges faced by members of the Armed Forces and their families.
The Two Worlds of Charlie F opened at the Theatre Royal Haymarket in London for two shows in January 2012, with critics praising the authenticity of the play. The production then embarked on a small UK tour visiting Birmingham, Cardiff and Edinburgh, where audiences have met every single performance with full-house standing ovations.
The award, which recognises an outstanding play carrying a human rights message, was presented to all those involved in the production on the roof of Amnesty's Scottish headquarters in Edinburgh.
The Two Worlds of Charlie F is a soldier's view of service, injury and recovery. Moving from the war in Afghanistan, through the dream world of morphine-induced hallucinations, to the physio rooms of Headley Court, the play explores the consequences of injury, both physical and psychological, and its effects on others as the soldiers fight to win the new battle for survival at home.
Performed by Bravo 22 Company, The Two Worlds of Charlie F is the ninth recipient of the award. The 2012 scheme saw a record number of entries, with 112 productions nominated.
Bravo 22 Company was set up by the Theatre Royal Haymarket Masterclass Trust and the Royal British Legion, in partnership with the Defence Recovery Capability, to aid the recovery of wounded, injured and sick Service personnel using a theatrical learning environment.
The project offered the personnel a chance to be part of a professional theatre company in which they would rehearse and produce a new piece of theatre based on their own experiences of service, injury and recovery. These same Service personnel perform their story on the stage.
The writer of the play, Owen Sheers, said:
I'm incredibly grateful the play has won the Amnesty award. Not only is it testament to the commitment of the cast and production team, but it is also an award that goes to the heart of the play's motivation - to give voice to those whose stories are unheard by heightening and lending resonance to those stories through the medium of theatre.
The Two Worlds of Charlie F was created through many of the core values that Amnesty also stands for, of bearing witness and speaking truth to power so that, along with 'never forget', we might also remember, and therefore think twice before engaging in conflict as a solution to difference.
Director Stephen Rayne commented:
This is a wonderful honour and a tribute to all who worked on the project, but above all to the soldiers and their families who were willing to share their stories with us. Without their willingness to open their hearts and minds to us and to trust us to create a piece of theatre from their experiences none of this would have been possible. Their honesty, fortitude and courage in the face of dreadful injuries has been a shining example to us all.
Sue Freeth, Director of Operations at the Royal British Legion, added:
First and foremost this is a project to aid the recovery of wounded, injured and sick members of our Armed Forces. That the resulting play has received so many accolades including the prestigious Amnesty International Freedom of Expression Award is very welcome indeed.
Shabnum Mustapha, Programme Director for Amnesty International in Scotland, said:
This was a tremendous year for the Freedom of Expression Award with yet another record-breaking number of entries and an incredible range of human rights issues being raised.
Freedom of expression has always been at the heart of what we do. It is why we've always worked so closely with artists and performers and it's why we're delighted to be giving this award today. The award recognises that theatre has an unrivalled power to challenge, educate and inspire. Today's winner illustrates that superbly.
Neil Cooper, writer and critic for The Herald, and one of the judges, said:
The importance of The Two Worlds of Charlie F can't be understated, both as a work of art and for the things it deals with.
By bringing together real people's stories, performed by former soldiers who know first-hand how a lack of support can damage once active individuals even further, writer Owen Sheers, director Stephen Rayne and the performers of Bravo 22 Company bring all these issues to life through a theatrically inventive compendium of real-life experience crafted into a very special piece of work.
The play will close with two shows in London on Sunday 9 September at the Theatre Royal Haymarket.
Published 24 August 2012