Armed Forces online mental health forum launched
From today, Wednesday 14 September, online well-being network Big White Wall is equipped to support the mental health needs of the Armed Forces…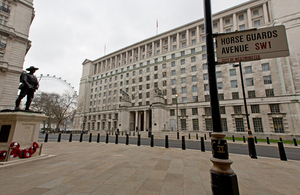 From today, Wednesday 14 September, online well-being network Big White Wall is equipped to support the mental health needs of the Armed Forces Community. The site is staffed by professional counsellors who can be contacted 24-hours-a-day, seven-days-a-week.
Amongst other services, Big White Wall users can chat anonymously to others who may have gone through similar experiences.
The Government has committed £250,000 to fund a one-year pilot of the Big White Wall online support network, specifically for serving personnel, veterans and their families.
This is supported by a commitment of £100,000 from Help for Heroes for the first year, with additional funding after this.
The Minister for Defence Personnel, Welfare and Veterans, Andrew Robathan, said:
When mental health problems arise, early detection and access to clinical and support services make a big difference. The provision of the Big White Wall is yet another tool that will provide further support for those in need.

Stigma is just one of the many concerns and barriers that prevent our servicemen from asking for help. The provision of an online social resource that removes some of the natural obstacles makes good sense - particularly for today's socially-networked generation.
The Department of Health has also launched an e-learning package it has funded for GPs so they can better identify mental health problems and support veterans and their families.
The course was developed by the Royal College of General Practitioners as part of plans to improve veterans' mental health services.
It will raise awareness with GPs of the need to ensure that those seriously injured when discharged from the Armed Forces continue to receive the best possible care. It will also ensure that GPs are able to offer the right support to families of those currently serving or who are veterans.
Health Minister Simon Burns said:
The e-learning course for GPs will ensure that GPs are able to offer the best possible service to veterans and their families, giving them the best treatment and experience possible.

We are determined to do what is best for our Armed Forces, their families and veterans. Even though the vast majority of Service personnel make the transition to civilian life successfully, a small number suffer problems as a result of their service. We have a duty to look after them and their families.

The Big White Wall will be an innovative way for them to access help anonymously and reinforces the Government's commitment to support the health needs of those who have given so much for this country and the families that support them.
The MOD has been working with the Department of Health, the NHS, Service charities and others to deliver the recommendations made by Dr Andrew Murrison MP in his report 'Fighting Fit - a mental health plan for servicemen and veterans'.
As part of the Government's new mental health strategy, 'No Health Without Mental Health', over £7m in additional funding has been made available over the next four years to help ensure that veterans with mental health problems get the very best care.
In May 2011 the Government published the first tri-Service Armed Forces Covenant which outlines the moral obligation that exists between the nation, the Government and the Armed Forces.
Dr Murrison said:
It is great that our Armed Forces Community, including their families, now have access to this online early intervention service, giving them another place to turn to for support.
Chief Executive Officer and founder of Big White Wall, Jenny Hyatt, said:
We are absolutely delighted to be working with the Government and Help for Heroes to provide safe anonymous support to the men and women of our Armed Forces, veterans and their families who would otherwise suffer in silence.
Chief Executive Officer and co-founder of Help for Heroes, Bryn Parry, said:
Mental well-being is a difficult subject for many to discuss. With the increase of tours and the level of mental stress experienced it is vital that we have the correct services in place to give our boys and girls the best help available for their mental wounds, as well as their physical.

We are delighted to be supporting Big White Wall with their safe, supported and anonymous community and hope it will encourage more Service personnel to reach out when they are feeling troubled.
Earlier this year the Government unveiled a new 24-hour freephone helpline number, 0800 138 1619, to help veterans and their families access expert advice from people trained and experienced in dealing with ex-servicemen and women, and their often complex mental health needs.
The helpline is supported by a range of psychological therapies that veterans and serving personnel experiencing mental health problems can request to help them improve their mental health and well-being.
The £250,000 for Big White Wall forms part of the Government's £7m investment over four years to improve mental health in the serving and veteran populations. The funding includes the e-learning package for GPs.
Published 14 September 2011