Armed Forces Minister visits Reaper operators
The Reaper aircraft are launched from Kandahar Airfield, Afghanistan, by RAF crews deployed in theatre. Once airborne, however, missions are…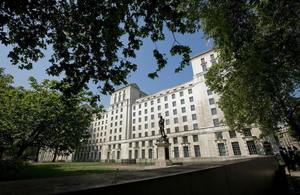 The Reaper aircraft are launched from Kandahar Airfield, Afghanistan, by RAF crews deployed in theatre. Once airborne, however, missions are flown remotely by crews of the RAF's 39 Squadron over secure satellite communication channels from Nevada, before control is handed back to the crew in theatre for landing.
Reaper's primary mission is to act as an Intelligence, Surveillance, Target Acquisition, and Reconnaissance (ISTAR) asset, employing sensors to provide real-time data to commanders and intelligence specialists at all levels. The Reaper's complimentary mission is to provide armed support to coalition and Afghan forces on the ground.
During his recent visit to Creech, Mr Harvey spent the day meeting members of all three armed Services, before being given a tour of a 'Ground Control Station' to watch a live MQ-9 Reaper mission being remotely piloted over Afghanistan.
39 Squadron, which has now contributed over 24,000 flying hours to the Afghanistan campaign, used the opportunity to update the Minister on recent operations and capabilities.
Mr Harvey congratulated the Squadron on its contribution to the campaign to date, noting that it had been achieved through the hard work, dedication and professionalism of all Squadron personnel.
Mr Harvey also witnessed a change of command at 39 Squadron. After two years in charge of the Nevada based Squadron, Wing Commander Jules Ball handed over the reins to Wing Commander Andrew Bird.
Wg Cdr Ball said:
It has been a privilege to command such an operationally focused unit.
He added that he was "honoured to leave behind a squadron that had matured so much over the past two years."
Incoming Officer Commanding, Wg Cdr Bird, stated he was "proud to take over a squadron that continues to provide so much support to ground forces in Afghanistan."
He added that he was looking forward to "relishing the challenges of migrating 39 Squadron back to the UK whilst maintaining its operational output."
Published 25 July 2011