News story
Armed Forces Minister praises strong UK-Chile ties
UK Armed Forces Minister Mike Penning has today affirmed the deep and historic defence ties between the UK and Chile.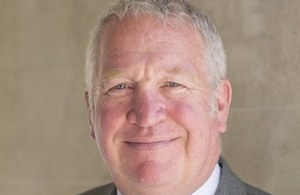 During a visit to the South American nation, Mr Penning underlined the importance of Chile as a key ally, and marked the longstanding relationship.
The UK has strong historical links with Chile, particularly through the Royal Navy and Chilean Navy.
While in the Chilean capital of Santiago, the minister met with Chilean Minister of Defense Juan Antonio Gomez to discuss mutual interests and challenges, and thank Chile for its continued support.
Minister of State for the Armed Forces Mike Penning said:
We share a close and longstanding Defence relationship with Chile, and will continue our strong commitment to this important regional ally.

There are historic ties between our two navies and we appreciate the support Chile has provided. We will continue to explore new ways for British and Chilean Armed Forces to work together, and alongside NATO.
The naval relationship between Britain and Chile has stood strong over many years. In 2008, a Chilean warship and two Chilean tug boats came to the aid of HMS Endurance after it suffered a flooding incident, providing support to the ship and her crew.
This year also marks the 100th anniversary of the Elephant Island rescue, when explorer Ernest Shackleton's British team were saved by a skilled and courageous rescue mission, led by Chilean Captain Luis Pardo. Various commemoration events have been held this year to mark the centenary. Maritime ties go back even further, as Lord Cochrane, a Royal Navy commander, helped develop the Chilean Navy in the early 1800s.
Today, the two navies work together seamlessly, using every opportunity to learn from each other.
The UK provides support to the Chilean Peace Support School in Santiago, which assists Chilean troops on peacekeeping missions in Haiti and Cyprus.
In addition to joint experience in the maritime theatre, the ministers were also able to discuss potential opportunities for future export opportunities, ensuring Chile remains an important trade partner for Britain.
During his visit Mr Penning also met Minister of Foreign Affairs, Edgardo Riveros, and British Ambassador to Chile Fiona Clouder, and was able to meet personnel from the Chilean Army's Cavalry Regiment.
Chilean President Michelle Bachelet visited the UK in May, and more recently Defense Minister Gomez attended the UK-hosted UN Peacekeeping Defence Ministerial in September.
Published 25 November 2016