News story
Armed Forces Memorial to get improvement works
The National Memorial Arboretum in Staffordshire will close for improvements and maintenance starting on 12 November. A new focal point for the laying of wreaths and other tributes will take its place.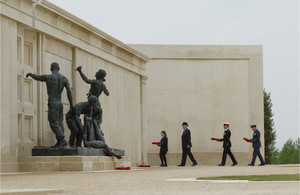 The Arboretum is to undergo a year-long programme of improvements and maintenance – including new pathways and lights – thanks to a £3 million LIBOR fines grant and further support from the Royal British Legion.
The Armed Forces Memorial commemorates all UK Servicemen and women who have been killed on duty or as a result of terrorism since the end of the Second World War. The striking and iconic monument will benefit from a new stone-paved surface, drainage improvements, upgraded pathways and lighting as well as essential maintenance to stonework.
Containing the names of over 16,000 men and women, the monument has attracted over 2 million visitors since it was dedicated in the presence of Her Majesty the Queen in October 2007.
The Arboretum has explored ways to minimise disruption to visitors during the period of works, however to ensure the safety of visitors, and in order to complete the work as quickly as possible, the programme of improvements will require the monument to be closed from 12 November 2015 for up to 12 months. All works will be complete by Armistice Day 2016.
During this time, the Arboretum has created a new area featuring information about the Armed Forces Memorial and photography of every name on its walls. It has also created a new focal point for the laying of wreaths and other tributes.
Sarah Montgomery, managing director of the National Memorial Arboretum, which is part of The Royal British Legion, said:
The LIBOR fines grant and support from The Royal British Legion will enable us to improve the monument and address issues with drainage and damp, ensuring it continues to provide appropriate recognition and thanks for those who have given their lives in the service of the country.

We recognise the disruption these works will cause and having to close the monument for any period of time is not a decision we wanted to take. There are however over 300 other memorials within the 150 acres of wooded parkland, with the majority of recent conflicts represented in some way. We hope that our visitors will take the opportunity to explore other parts of the Arboretum.

We are also creating an area with panels featuring images of the names on the monument, and a focal point for the laying of tributes, in order that families can continue to pay their respects.
The Armistice Day service in 2015 will take place as usual at the Armed Forces Memorial. The dedication of new names on the memorial, of those killed in 2015, and a rededication of the upgraded memorial, will take place in early November 2016, once the works are fully complete.
More information is available on the Arboretum's website.
Published 19 October 2015