Armed Forces honoured at GQ Awards
Britain's Armed Forces were amongst the recipients at last night's 14th annual GQ Men of the Year Awards which were held at the Royal Opera House in London's Covent Garden.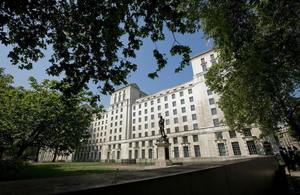 Although world famous celebrities such as Bradley Cooper, Johnny Depp and Harry Potter's Emma Watson attended the ceremony, the real stars of the evening were our Service personnel as they were honoured with a special Help for Heroes Award.
This is the first year this award has been presented and its purpose is to recognise the heroism shown by members of the Armed Forces at home and on operations abroad.
The award was accepted at the ceremony by a group of specially invited personnel from all three Services. Corporal James Bedford, Lieutenant Commander Peter Higgins and Flight Lieutenant Marc Heal were in that prestigious group:
It's a real privilege to be selected to come to this prestigious event and it's really good that the public are recognising what we are doing on the global stage at the moment," said Lieutenant Commander Higgins.
Although the opportunity to rub shoulders with international superstars was an obvious bonus for the personnel, receiving the award on behalf of everyone in the Armed Forces was the highlight.
Corporal Bedford said:
Although we know we've got a lot of support from the public, for us to get something like this and receive public recognition is a well-needed boost for the guys and girls on the front line.
Flight Lieutenant Heal added:
From my own experience in Afghanistan, our time out there was made so much easier when we knew we had the support of everyone back home, and, with organisations like GQ and Help for Heroes keeping it in the public minds, it means the public will support us more and that's the most important thing for us.

We will carry on doing whatever we have to do, as long as the public are still behind us.
Prior to the event, Lieutenant Commander Higgins, Corporal Bedford and Flight Lieutenant Heal starred in a photoshoot for GQ magazine, which was something that took the servicemen out of their comfort zones:
It's good that a big magazine like GQ is recognising everything the Armed Forces do," Flight Lieutenant Heal said. "To be in the magazine, it's not something you'd imagine you'd be doing when you join the RAF! It's a little bit crazy.
The October 2011 issue of GQ magazine is out today.
Published 7 September 2011