Armed Forces get improved accommodation in Plymouth
Defence Estates (DE) has completed two significant projects to modernise Single Living Accommodation (SLA) for military personnel based in Plymouth as part of a wider upgrade programme to improve accommodation on the Royal Naval estate.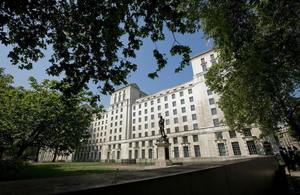 238 single living bed-spaces have been modernised at Royal Marines Barracks (RMB) Stonehouse and, 70 bed-spaces in two accommodation blocks at The Royal Citadel in Plymouth have been refurbished, giving members of 29 Commando Regiment Royal Artillery improved living accommodation.
DE's Regional Prime Contractor for the South West, Debut Services, began renovation work on Stonehouse Barracks' East Block - a Grade II listed building - in September 2009. The work was completed in three phases, enabling the accommodation to remain partially occupied throughout the project.
Phil Baring, DE Facilities Manager, said:
Supporting the Armed Forces is our main priority and this work is an excellent example of that. DE are committed to delivering value for money and ensuring that our forces get the accommodation they deserve.
Michelle Roberts, the Site Estate Representative during the project delivery, added:
The refurbishment of the single living accommodation was carried out in a very short timescale. The whole building was redecorated as well as providing the new bedroom furniture, kitchens and ablutions.

As the building is Grade II Listed, work was constrained by its age and layout, however the refurbishment has provided light, airy rooms which have significantly improved the 238 bed spaces.
The work included upgrades to communal ablution facilities, kitchens, laundries and the hot water system.
In parallel Debut started work on the two accommodation blocks at the Citadel in November and completed on schedule in March 2010. The refurbished bedrooms have been fitted with new cherry wood furniture and given a complete internal redecoration - including new carpets. Each room has also been installed with additional sockets and bed-head lights, and new fire-rated curtains have been fitted.
As well as upgrades to individual bed-spaces, new wet-room shower facilities have been created within existing ablution rooms and energy efficient lighting has been installed in all bedrooms, corridors and stairwells.
DE Facilities Manager, Bill Holter said:
Undertaking two refurbishments at the same time allowed preliminary costs to be reduced, as the same contractor was used on both schemes.
"The overall standard achieved is high, as the project had a good planning period with the Site Estate Team, Debut Services and their contractor.
"This early planning also allowed the specification to be clearly defined with all parties, which has ensured value for money has been achieved."
Published 13 May 2010