News story
Armed Forces Day flag flies on Whitehall
Today, the Armed Forces Day flag flies above the Cabinet Office and Dover House, and across Whitehall.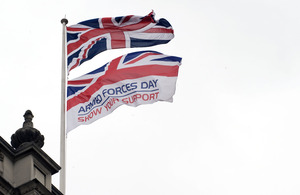 Deputy Prime Minister Nick Clegg said:
The recent horrific events in Woolwich remind us just how much the men and women of our Armed Forces community put their lives on the line to protect and make our country safer.

This week, ahead of Armed Forces Day, we recognise the bravery, commitment and resilience they've shown in recent weeks and throughout their service, and thank them for that sacrifice. All deserve our gratitude for the invaluable work that they do.

During this time, it's also important that we remember the families and loved ones of those who serve. The essential support they give back at home and the courage they show while separated, often for long periods of time.

They are all inspirational.
Published 24 June 2013