Armed Forces Day 2015 in Japan: Friendship and the future
Live performances bring together Armed Forces partners through the harmony of music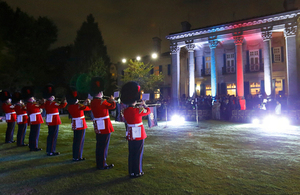 The third British Armed Forces Day event in Japan was held on 14 October at the British Embassy Tokyo with the support by the British Band of Coldstream Guards, the US Air Force Pacific Showcase Band and Japanese Ground Self Defence Force Central Band, symbolising friendship and the future working together in East Asia.
Welcoming over 200 guests from the two dozen countries represented in Tokyo as well as senior representation from US Forces, Japan British Ambassador to Japan Tim Hitchens said in his remarks:
This evening is dedicated to all our allies and partners; to our friendship and the future.

This year, we have focused on relations between the UK and Japan in 3 particular areas. We worked closely with Japanese colleagues on anti-piracy duty in the Gulf of Aden by providing a STRATCOM team and a Chief of Staff. Through pooling our respective areas of specialisation, the UK and Japan have been developing the latest technological defence equipment. We also, in Portsmouth in the UK, have the Armed Forces Rugby Tournament and the Japanese team from the MOD is preparing to encounter the NZ team.
The UK is 100% behind Japan's policy of greater engagement in world security.
Mr Kenji Wakamiya, the State Minister of Defence and the guest of honour of this event, said in his remarks:
When it comes to exchanges between the Defence Ministries and Armed Forces, I visited the UK in July last year and Japan's Defence Minister, Mr Nakatani, and former State Minister of Defence, Mr Sato, also visited the country earlier this year. Working-level cooperation between our two countries on defence equipment, technology and cyber security is underway – so there is much active cooperation and exchanging happening at both a high-level and working-level.

I hope to see UK-Japan defence cooperation and exchange further develop as part of my own commitment to regional peace and security for the future.
This unique event aimed to bring together colleagues from Japan, the US and across the foreign embassies in Tokyo in order to promote friendship and outcomes that can only be achieved through cooperation. Working closely with the UK Ministry of Defence, the US Forces Japan and the Japanese Ministry of Defence, three unique bands with their own style performed in seamless harmony together. The combined sound incorporated each group's individuality whilst operating together with unified purpose, resulting in a spectacular and moving joint performance including Triumphal March, Yasuki-bushi, Blues for a Purpose, In the Mood, When the Guards are on Parade, King's Guard, Amazing Grace and the national anthems of Japan, the US and the UK.
The evening was live-streamed on social media and more than 7,000 people have watched the performances online.
Recorded footage of the joint performances can be viewed until mid November at www.ustream.tv/recorded/75488057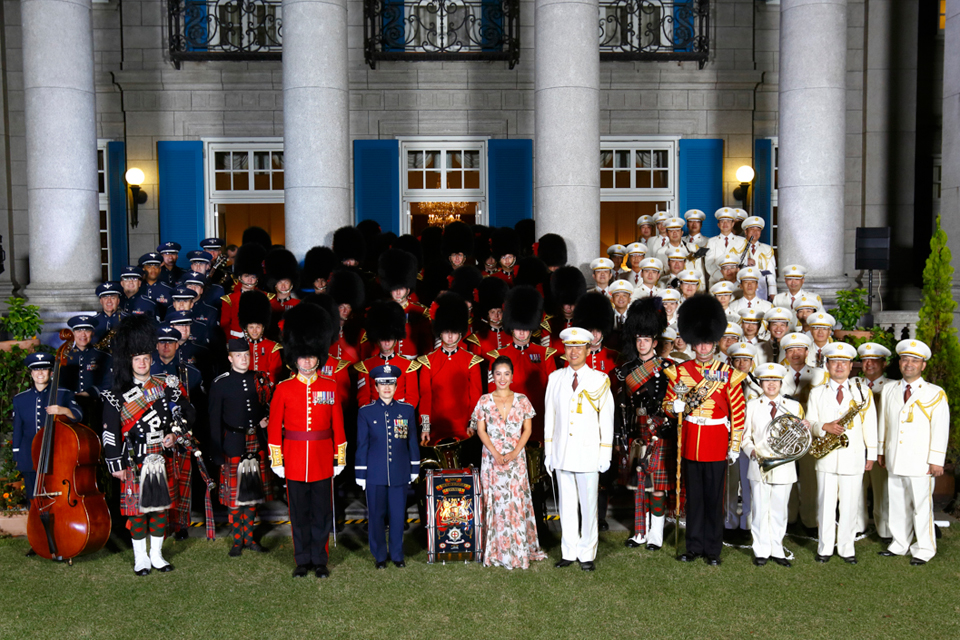 More photos can be found at the British Embassy Flickr
Published 27 October 2015