Armed Forces Community Covenant signed in Gateshead and Preston
In two separate signing ceremonies local members of the Armed Forces, both past and present, together with their families, have received a public promise of support from the people of Gateshead and Preston.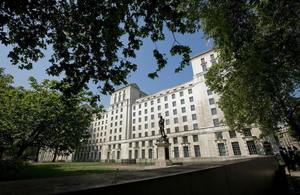 On Thursday 26 January 2012, at the Gateshead Civic Centre, Gateshead Council signed the Armed Forces Community Covenant, pledging to work with local charities and voluntary groups, businesses and private individuals to support current and ex-Service personnel throughout the borough.
Separately, Preston City Council has become the latest local authority to pledge its support to the military through its signing of a Community Covenant on Monday 30 January 2012.
The Community Covenant initiative was one of the key measures in the Armed Forces Covenant published in May 2011. Its aims include:
to encourage local communities to support the Armed Forces Community in their areas, and vice-versa
to promote understanding and awareness amongst the public of issues affecting the Armed Forces Community
to recognise and remember the sacrifices made by the Armed Forces Community
to encourage activities which help to integrate the Armed Forces Community into local life.
Gateshead Council and Preston City Council will seek to provide the best possible support to help solve any housing, employment or skills needs of Armed Forces personnel and their families.
Gateshead Council Armed Forces Champion, Councillor Stuart Green, explained:
The work our Armed Forces do on behalf of us all should never be underestimated or forgotten and it is vital that we support them when they return to our communities.

Gateshead Council has long been a committed supporter of the Armed Forces, with Help for Heroes being a mayor's charity for many years and Gateshead's 72 Engineer Regiment awarded Freedom of the Borough last year.

We are keen to do anything we can to help our serving and retired personnel and are proud to play a key role in recognising and meeting their specific needs. Signing up to the Armed Forces Community Covenant scheme is the first of many steps we will take to achieve this.
In Preston, Brigadier Nick Fitzgerald, Commander of 42 (North West) Brigade, said:
Preston has always been a Service-friendly place. The local community has a strong record of supporting its local personnel, both past and present, and I'm sure that same sense of welcome will be extended to those Service personnel yet to return here from wherever in the world their service has taken them.
That's why we in the military are extremely proud to be part of the Preston Community Covenant.

This initiative is an enormously important document which represents a commitment to cement and build on the support which those in military service, those who have now left service and the families of both groups receive.

But I hope it will also promote a better understanding and awareness amongst members of the public of the issues that affect the Service Community, and that it will encourage the people of Preston to develop an even stronger relationship with those in the city who are part of the military family.
Among the initiatives under way as part of the Community Covenant in Preston are a city centre 'one stop shop' where members of the military community can discuss issues and concerns they have with trained volunteers.
Businesses in the Preston area are also supporting the Community Covenant; one scheme intends to offer discounts on goods and services to customers carrying an Armed Forces Veterans Badge or Service Identity Card.
Published 31 January 2012