News story
Armed Forces at Living Islam Festival
Service personnel joined the British Muslim community at their 2014 Living Islam Festival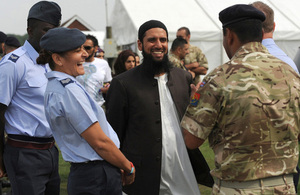 Representatives from the Royal Navy, Army and Royal Air Force were invited to attend the Islamic Society of Britain's event, which ran from 31 July – 3 August.
Military personnel of the Armed Forces Muslim Association delivered a multi-media presentation about their roles. They spoke about providing humanitarian aid and disaster relief in the wake of a natural disaster and protecting UK citizens at home and abroad. Imam Asim Hafiz, Islamic adviser to the Ministry of Defence, also took questions from the audience about the life of a Muslim in the Armed Forces.
As this year marks the centenary of the start of the First World War, visitors could also attend a presentation by Jehan Mahmood, a Muslim historian, on the contribution made by thousands of Muslim troops during this battle.
With over 5,000 people attending, the festival proved to be a popular event. The Armed Forces highlighted their support for the achievements of British Muslims with a fanfare of trumpets and background music played by Army bandsmen throughout the ceremony.
Imam Asim Hafiz who was awarded an OBE this year for his work in the Armed Forces said:
There are over 600 Muslims in the British Armed Forces so we are delighted to join the Muslim community at this festival. It gives us an opportunity to strengthen our relationship, meet people that we perhaps wouldn't ordinarily have the opportunity to meet and for them to ask us questions and to dispel any myths.
This event coincides with the launch of the Armed Forces Muslim Forum which happened earlier this month. The aim is to encourage better dialogue and help highlight the crucial role British Muslims play in our Armed Forces both past and present.
Published 4 August 2014