Arlette Contreras receives UK Human Rights Defender Award
Arlette Contreras became the face of the #NiUnaMenos movement against domestic violence in Peru.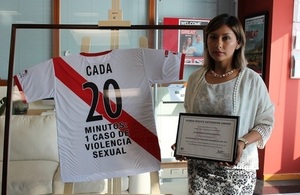 This year in the context of the 70th anniversary of the Universal Declaration of Human Rights and the 20th anniversary of the Declaration on Human Rights Defenders, the British Embassy in Peru has decided to honour Arlette Contreras, a lawyer from Ayacucho, for her fight to end violence against women in Peru. Arlette Contreras received the 2018 Human Rights Defenders Award from Kate Harrisson, the British Ambassador to Peru.
A human rights defender is someone who defends any fundamental right in her own name or in the name of a person or group of people. Defenders seek to promote and protect civil and political rights and to promote, protect and establish economic, social and cultural rights, such as collective rights. Arlette Contreras became the face of the #NiUnaMenos movement against domestic violence in Peru after camera footage appeared in which her former boyfriend attacking her went viral. Kate Harrisson, British Ambassador to Peru, said:
It's a real honour for me to meet a woman like Arlette. Her struggle has gone viral not just in Peru, but also throughout Latin America and the rest of the world. Arlette's case is emblematic of so many other women. Her struggle is a universal one, and so is ours. No more violence against women.
Arlette Contreras added:
I am grateful for this recognition from the British Embassy. I receive it with affection and in memory of the women and girls who have been murdered or gone missing.

I believe that the recognition of women who fight against gender violence is a wake-up call for our country, which has the obligation to prevent and to punish all forms of violence.

All women have the right to a life free of violence! #NiUnaMenos.
According to a report published by the World Health Organization (WHO), Peru is one of the countries with the highest rates of violence against women. In 2018 alone, 66% of women between the ages of 15 and 49 were victims of some type of violence (psychological, verbal, physical or sexual) perpetrated by their husband or partner according to Peru's National Institute of Statistics.
In 2018 alone, Peru has registered 133 feminicides, 4,514 complaints of sexual violence and 141,922 complaints of family violence, according to figures provided by the Ministry of the Interior. Likewise, between January and September 2017, the Ministry of Women and Vulnerable Populations registered 4,071 cases of abuse of children and adolescents.
The BBC named Arlette Contreras as of one of the top 100 Women of 2018.
Published 6 December 2018