World news story
British High Commissioner hosts spectacular VIP event to celebrate the Nigerian premiere of Spectre
New 007 film is released in cinemas across Nigeria from 6 November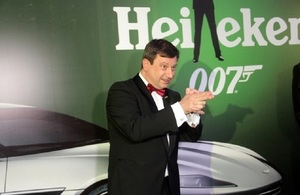 Last night British High Commissioner, Paul Arkwright, hosted an exclusive VIP premiere of the new James Bond film, SPECTRE, which goes on general release on Friday 6 November.
The screening was preceded by a glitzy event, with guests taking to a specially created 'green carpet', reflecting Nigeria's national colour as well as celebrating the two joint hosts and Official Partners of SPECTRE – Jaguar Land Rover and Heineken – whose corporate colours are both green.
SPECTRE is Bond's twenty-fourth cinematic adventure, and has been hailed the most expensive 007 film to date, costing £200 million ($300 million). Mr Arkright says: "James Bond is an icon of British style, adventure and culture. The new film embodies Britain at its very best – it was a roller-coaster ride of excitement from start to finish and is set to delight cinema goers with its high octane action scenes. I was physically exhausted just watching!"
Mr Arkwright adds: "Tonight's event was a great success. Nigeria is just one of 60 countries worldwide taking part in our global Bond is GREAT campaign, which shows what makes Britain GREAT and aims to encourage people to visit, do business, invest and study in the UK. Our profound thanks go to our partners in hosting this event: Coscharis Jaguar Land Rover, Heineken, British Council and of course Silverbird Film Distribution."
Connie Price, British Council Country Director comments: "Tonight's screening of SPECTRE was a great success and an excellent example of British arts and culture. Seeing the buzz around the film was, for me, a perfect way to kick-off our participation in Africa International Film Festival (AFRIFF), which starts next week."
SPECTRE, the 24th James Bond adventure from Albert R. Broccoli's EON Productions, Metro-Goldwyn-Mayer-Studios, and Sony Pictures Entertainment, is showing in cinemas nationwide from Friday 6 November 2015. See the Official Trailer for SPECTRE here: http://www.007.com/watch-the-spectre-teaser-trailer/
SPECTRE is produced by Michael G. Wilson & Barbara Broccoli. The screenplay is by John Logan, Neal Purvis, Robert Wade & Jez Butterworth; story by John Logan, Neal Purvis & Robert Wade.
Published 5 November 2015