Are you 'Fit to Tow' this summer?
People are being urged to help cut the number of towing related incidents on Highways Agency roads this summer by checking their caravan or trailer before setting out.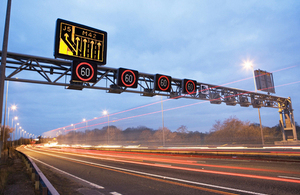 There were 2,415 towing related incidents recorded on Highways Agency roads between July and September in 2013, each potentially causing long delays and distress to those involved.
But many of these incidents could have been avoided if a few simple checks had been carried out, particularly where the caravan or trailer had not been used since the previous year.
Highways Agency Service Delivery Manager Andy Withington says:
The vast majority of caravanners and people who tow are safe and responsible drivers – however we do see a big peak in caravan and towing incidents during the summer, many of which could be avoided if drivers had carried out a few simple checks.

If a car is off the road for months it's common sense to check it is roadworthy before taking it back out and we strongly urge people to do the same with their trailers and caravans.
Frequent causes of incidents include overloading the caravan or trailer, a mismatch with the towing vehicle, tyres which have burst because they have not been checked or replaced where needed and poor towing technique. The Highways Agency advises anyone towing a caravan or trailer to:
carry out a final maintenance check before setting off – particularly if it has been left over the winter
pay particular attention to the condition and pressure of the tyres on both the towed and towing vehicle
check that loads in the towed and towing vehicle are secure, that the weight is evenly distributed and is not excessive
be aware of how towing affects the vehicle's performance – particularly braking distances
use extended mirrors when towing wider trailers, such as caravans, to ensure clear and legal visibility of the trailer and of other vehicles on the road
check they have an appropriate driving licence for the vehicle and trailer combination
know the correct speed limit for the vehicle and roads
make sure they have proper breakdown cover in place
Drivers towing boats in particular should take care to keep the hubs of their trailers out of cold water, as this can stop the grease working and lead to failed bearings.
The agency works closely with the Caravan Club, the Camping and Caravanning Club and the British Horse Society to promote safety messages to people who tow vehicles and trailers.
Martin Spencer for The Caravan Club said:
The overwhelming majority of incidents involving caravans are readily avoidable if drivers check their car and caravan's condition and loading before setting off and observe the speed limits for towed vehicles.

Correctly used, caravans are safe and straightforward to tow, and provide fantastic, trouble-free holidays. The Club provides a wealth of advice and information to help caravanners avoid problems, and works with the Highways Agency and other bodies to promote safe caravanning.
Ian Hewlett for the Camping and Caravanning Club added:
Ensuring your tow vehicle and trailer are in a roadworthy condition are important steps for every driver, leave yourself plenty of time before your trip to check and rectify any problems. If you're going on a long journey plan regular breaks to help you to remain fit to tow.
Sheila Hardy from the British Horse Society says:
We all want to transport ourselves and our animals safely. Breaking down – or worse – on a busy road is stressful for both drivers and horses, so we should do all we can to avoid finding ourselves in that situation.

We encourage everyone to follow the Highways Agency's advice and go to the British Horse Society website for more specialist information.
Congestion on the strategic road network is estimated to cost the economy £3 billion each year, 25% of which is caused by incidents. In 2013, there were 5,480 incidents involving caravans and trailers on the Highways Agency's network of motorways and major A-roads. Over 4,000 of these – almost 75% of such incidents – happened between April and September. During autumn and winter, 1.4% of all incidents involve caravans and trailers. During spring and summer – this increases to 2.6% of all incidents.
Between July and September in 2013 there were 2415 incidents involving caravans and trailers on the strategic road network.
Caravans/Trailers
| | |
| --- | --- |
| East Region | 268 |
| East Midlands Region | 227 |
| Yorkshire, Humber and the North East | 397 |
| North West Region | 340 |
| South East Region | 280 |
| South West Region | 516 |
| West Midlands Region | 387 |
| Nationally | 2415 |
The agency encourages all drivers to plan their journeys and provides a full range of services to help with this. It has produced several sources of information about safe towing, including downloadable magazines and videos, all available on the Highways Agency's website.
Highways Agency traffic officers will be at service stations across England this weekend sharing advice on safe towing and journey planning, as well as being on hand to deal with any incidents on the motorway network.
General enquiries
Members of the public should contact the Highways Agency Information Line on 0300 123 5000
Media enquiries
Journalists should contact the Highways Agency press office on 0844 693 1448 and use the menu to speak to the most appropriate press officer
Published 17 July 2014