World news story
Arctic convoys' veterans from the UK visited St. Petersburg to participate in the monument unveiling ceremony
The British Consulate General in St. Petersburg supported the visit of British arctic convoys' delegation to Russia.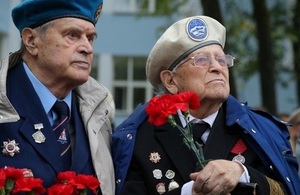 The delegation included ten British veterans and their carers, as well as Sunil Chopra, Mayor of Southwark, Captain Mike Mathews RN, Vice President of HMS Belfast Association, George Milne, Chairman of the Russian Arctic Convoy Museum and a few other friends and supporters.
The British veterans travelled to St. Petersburg by invitation of Yury Alexandrov, President of the Polar Convoy Club. On 31 August the delegation attended the unveiling ceremony of the new monument commemorating heroic deeds of Arctic convoys' seamen in 1941-1945. The monument is a striking bronze statue of Russian, British and American sailors standing together keeping watch.
The date of the ceremony was aligned with the 73rd anniversary of the arrival in Archangelsk of the first Arctic convoy codenamed "Dervish" . That convoy delivered essential supplies to the Soviet Union during World War II.
As part of the programme the British veterans visited the Russian ice-breaker "Krasin", which was built in Newcastle and participated in the Arctic convoys. It is the only Russian vessel from those days that still remains in good working order. The UK delegation also took part in the wreath-laying ceremony in honour of the victims of the Leningrad Siege at Piskarevskoye Memorial cemetery and attended a reception on behalf of the Governor of St Petersburg.
The programme to commemorate Arctic convoys was supported by the British Consulate-General in St. Petersburg. Her Majesty's Consul General Keith Allan hosted an informal reception for the British delegation, which was also attended by a group of Russian Arctic convoys' veterans. A warm and friendly atmosphere helped the veterans feel at home, they were happy to meet and share their war stories and even performed several old naval songs at the event which they felt was "a wonderful way to end their visit to St Petersburg".
Published 3 September 2014