World news story
Archbishop of York visits Egypt
The Archbishop of York attended the celebration of the 75th Anniversary of the consecration of All Saints Cathedral in Cairo on 2 November 2013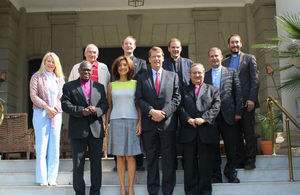 On 3 November, 2013, HMA James Watt hosted at the residence Most Rev. & Rt. Hon. Dr. John Sentamu, the Archbishop of York and Most Revd Mouneer Anis, the President-Bishop of the Episcopal Church in Jerusalem and the Middle East, and others.
The British delegation came to attend the celebration of the 75th Anniversary of the consecration of All Saints Cathedral in Cairo on Saturday 2 November 2013.
All Saints Cathedral, the mother church of the diocese, is one of the most-used Cathedrals within the Anglican Communion. It lies in the heart of the Middle East and in the centre of one of the region's most populous cities. On 25 April 1938, which is the Feast of St. Mark, the patron saint of Egypt, Bishop Llewellyn Gwynne established the second All Saints' Cathedral in Cairo and the Archbishop of York, Dr. William Temple, consecrated it.
View the photos
Published 5 November 2013