Archbishop of York conducts special service for military families
Yorkshire-based families of soldiers killed in action or seriously injured in Afghanistan have joined the Archbishop of York, Dr John Sentamu, at a special service of remembrance and thanksgiving.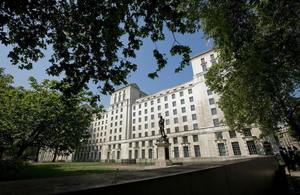 The service, held in the chapel at Bishopthorpe Palace in York, was attended by over 50 parents and partners, brothers and sisters, as well as Visiting Officers and Welfare Officers from across the York Diocese.
Dr Sentamu said:
We should not forget our brave servicemen and women, who put their lives on the line on a daily basis. We have the best and bravest troops in the world, and it is important that they know how highly they are thought of by this nation.
Among those attending were Jill and Phil Hatton from Haxby, parents of the late Lance Bombardier Matthew Hatton.
Bombardier Hatton was killed in action on Thursday 13 August 2009 when he was caught in an improvised explosive device blast whilst on foot patrol in the Sangin area of Helmand province. Mrs Hatton said:
Phil and I have been to a number of these memorial events and feel that this is an important part of the grieving process.
We have been to some large services, but a small event like this is easier to deal with and more personable. Many of the families in the chapel have shared the same grief we have.
Also attending the service was Mrs Christine Reeson-Walden from Grimsby, whose son, Corporal James Wilkinson, was seriously injured by a blast from an improvised explosive device in June this year. Corporal Wilkinson is currently being treated at the Defence Medical Rehabilitation Centre Headley Court:
It has been emotional to be with other mums, and it was nice to light a candle in memory of those who lost their lives and say a prayer for all those in hospital at the moment," said Mrs Reeson-Walden, who added that her son James was now on the road to recovery.
The head of the British Army in Yorkshire and the North East, Brigadier Greville Bibby CBE, read from the Bible during the service and joined the Archbishop and the families at a reception afterwards:
It is so important for those of us in the Armed Forces to feel supported and valued by the communities in which we live," said Brig Bibby.
When you consider the trauma suffered by those families who have lost a loved one, or their nearest and dearest has suffered serious injuries, then that support is even more important.
What this service has brought home to me is that it is very easy to show that support and that love at the time of the death or injury, however, the families live with the consequences forever.
The Archbishop, by holding this service and reception, is demonstrating that hand of friendship and love that these courageous families so value. I have spoken to lots of them today and they are so appreciative of being recognised in this way.
Published 19 December 2011