Archbishop of Canterbury visits the MOD
The Archbishop of Canterbury, Dr Rowan Williams, visited the Ministry of Defence's Main Building in London today to meet civil servants and serving military staff.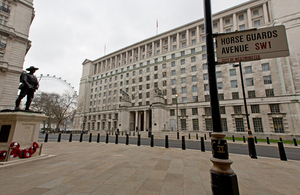 The visit was part of the Armistice Day events today and the Archbishop attended the Cenototaph service in Whitehall with Defence Secretary Dr Liam Fox and the Chiefs of Staff.
On arrival at MOD Main Building this morning, the Archbishop was met by Minister for Defence Personnel, Welfare and Veterans Andrew Robathan.
The Archbishop's first stop was the Chapel of Unity where he met civil servants and Service personnel who have involvement in running the chapel.
The next stop was the Memorial Courtyard where selected members of the Armed Forces and the Civil Service were granted an audience with the Archbishop who said:
Every year around this time I like to do something with the Services somewhere. Last year I was at Catterick, I've also been to Portsmouth at this time of year.
It was very moving and also very instructive. Just the chance to meet people working here at the MOD, some of the Service personnel working here at the MOD, and some others too, to have an insight to their feelings. It was very valuable.
Whilst in the Memorial Courtyard, the Archbishop was joined by Defence Secretary Dr Liam Fox, Chief of the Defence Staff General Sir David Richards, Chief of the General Staff Sir Peter Wall, Chief of the Air Staff Air Chief Marshal Sir Stephen Dalton, First Sea Lord Admiral Sir Mark Stanhope and Permanent Secretary Ursula Brennan.
En masse, the Archbishop and the Chiefs of Staff then made their way to the Cenotaph on Whitehall to take part in the two-minute silence to pay tribute to Armed Forces personnel who have been killed on operations since the First World War.
The Archbishop said:
It's a time when we all remember what's being done by the Armed Forces and just some small token that the Church values them and appreciates them as well.
When I was a Bishop in Wales, every year I used to preside at the Cenotaph ceremonies there, but I haven't done anything quite like that for a few years, so it's moving to be able to do it again.
This is on a very big scale and it's also wonderful to see the little schoolchildren who were walking on and doing their little bit.
After the ceremony, the Archbishop and Chiefs of Staff met with George Cross and Victoria Cross recipients who were present to pay their respects on Armistice Day to their fallen comrades.
The Archbishop added:
Its always moving to meet people who push the envelope of what human beings can achieve and it's not only their courage, but also the realism and the calm in the way people talk about it and think about it.
Published 11 November 2010