Archaeology project aids injured personnel rehabilitation
A group of injured soldiers are being taught the fundamental skills of archaeology on Salisbury Plain Training Area as part of their physical rehabilitation.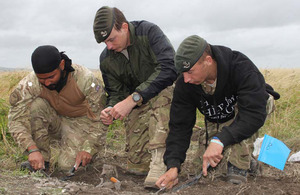 11 soldiers from 1st Battalion The Rifles (1 RIFLES) have started learning a series of excavation, land survey, drawing and mapping techniques. The course will also improve their written communication and presentation skills.
The archaeology project will help to facilitate a return to the regiment for successful participants or to provide a focus or hobby for those that may leave, as well as providing a sense of worth and purpose for the participants through learning new skills and building on team-working and social skills.
The unique, week-long programme will examine the Iron Age deposits at East Chisenbury Midden, with soldiers excavating material, including decorated pottery, that has been moved by badgers who have constructed their setts on the prehistoric monument.
The project will also give the soldiers an insight into the heritage of an area over which they have trained in the past.
Corporal Steven Winterton of 1 RIFLES said:
I've really enjoyed the experience so far. It's been brilliant. I've always had an interest in archaeology and this week has rekindled that.
The project has been a great help in lifting the day-to-day burdens following my injury. It gives all of us participating in the project the chance to acquire new skills to help develop our future careers.
Rifleman James Dennant of 1 RIFLES said:
I'm looking at my future career options and would like to use this experience to develop new skills which would help - whether I stay in the Army or not. I'm a firm believer in personal development and following a career path that interests you.
Rifleman Subeg Singh of 1 RIFLES added:
This has been a great experience following my return from Afghanistan. It's been brilliant to work on the project and find fascinating items such as fragments of pottery dating back some 2,700 years.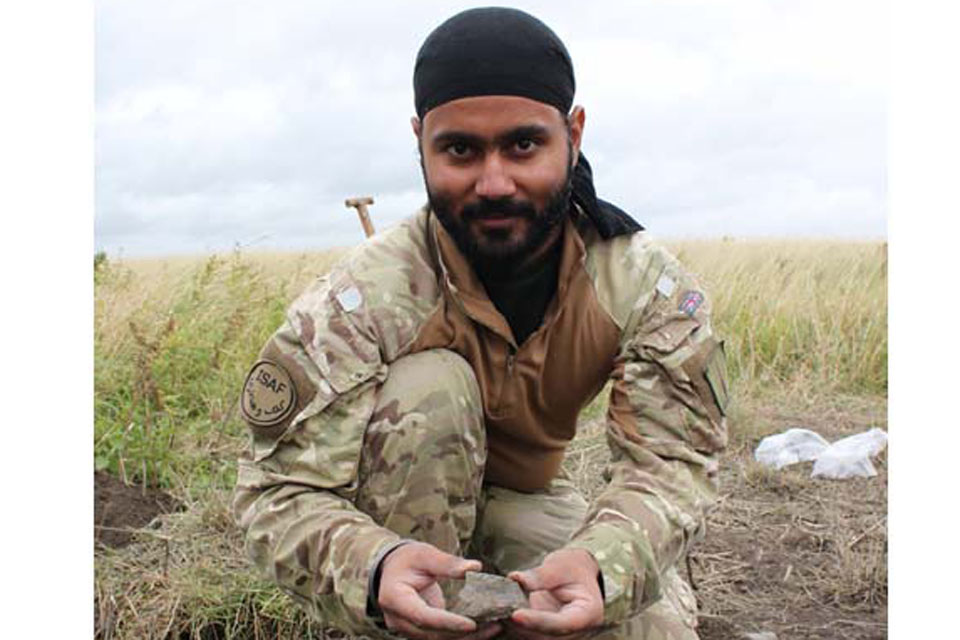 The project has been co-directed by Richard Osgood, Senior Historic Advisor to the Defence Infrastructure Organisation (DIO), and Sergeant Diarmaid Walshe of 1 RIFLES, with support from a number of partners including English Heritage, Canterbury Archaeological Trust, Wessex Archaeology and the Army's survey unit, 135 Independent Geographic Squadron.
Mr Osgood said:
DIO's top priority is to support our Armed Forces. There are long-standing connections between the profession of archaeology and the military. In addition, this work will draw on a number of important skills and should hopefully give the soldiers an enduring interest in heritage and their environment.
It is gratifying to see so many heritage organisations and individuals volunteering their time to play their part in helping in the rehabilitation of wounded personnel.
The soldiers were supported by on-site qualified archaeologists in carrying out their excavations and will go on to produce a record of their findings.
East Chisenbury Midden was chosen as an archaeological site requiring careful management and conservation.
During the excavations, the participants have already found high quality decorative Iron Age pottery dating back to around 700BC, bones from sheep and pigs - some butchered as part of feasting, flint flakes and tools.
Sergeant Walshe, who is also a qualified archaeologist, said:
These soldiers have all endured a lot during operational tours. Due to the complex nature of their physical and mental injuries sustained in Afghanistan, the Army is looking at new and innovative ways to promote recovery.
It is my belief that archaeology is the perfect way to achieve this, whilst enhancing their rehabilitation process. We are investing time and resources to aid these soldiers, with a firm belief that fieldwork and recording will aid their recovery.
More than 500 soldiers from 1 RIFLES have deployed to Afghanistan where they have had considerable success in ensuring that local people can live and work in a safe environment.
The work will also help to inform the long term management of the site, as recently featured on the BBC's 'Secret Britain' programme.
Published 8 September 2011