News story
Aquarius report and flyer published
Fatal man overboard from the fishing vessel Aquarius, 2 miles east of Aberdeen harbour.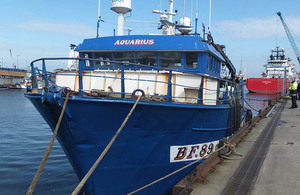 The report into MAIB's investigation into the fatal man overboard from the fishing vessel Aquarius on 17 August 2015 is now published.
The report contains details of what happened and the subsequent actions taken, read more.
A safety flyer for the fishing industry summarising the accident and detailing the safety lessons learned has also been produced.
Statement from the Chief Inspector of Marine Accidents
This is yet another tragic example of a crew member losing his life after going overboard from a fishing vessel. The crewman did not wear a PFD when working on the open deck and his crewmates were not able to recover him before he was lost to the sea.

The MAIB investigation found that unnecessarily hazardous working practices on Aquarius were considered to be the acceptable norm by everyone, including the owners and skippers of the boat. Aquarius had been issued with multiple safety related deficiencies by the Maritime and Coastguard Agency prior to the accident, however these appeared to have made little difference to how the boat was operated.

This accident is a stark reminder of the hazards faced by fishermen at sea, but also how fishermen can reduce those hazards by giving more thought to the foreseeable risks they face on a daily basis and take positive action to reduce the likelihood of accidents occurring. In this way, relatively simple changes to the way fishermen work will help to ensure that they come home to their family safely.
Press enquiries
Press enquiries during office hours 01932 440015
Press enquiries out of hours 020 7944 4292
Published 6 October 2016