Press release
Apprenticeships starts almost double in two years
Apprenticeships starts break through the half million mark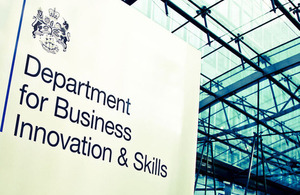 Apprenticeship starts have topped half a million, figures revealed today. In the 2011/12 academic year 520,600 people started an apprenticeship. This is an increase of 13.9 per cent on the preceding year and 86.1 per cent since 2009/10.
There was particularly strong growth in the engineering sector, with starts up 21.5 per cent to 59,480.
Business Secretary Vince Cable said:
Whenever I speak to businesses, a lack of trained workers is a frequent concern.
Today's figures mean we are starting to turn the tide. Over half a million people took up an apprenticeship last year, showing that our investment in vocational skills is paying off.
I am particularly pleased to see the high number of people studying engineering. We have a massive shortage of engineering skills in this country, and we need even more to support manufacturing, exports and infrastructure.
Growth in higher apprenticeships was particularly strong, increasing by 67.6 per cent. In July 2011 the Government introduced the £25 million Higher Apprenticeship Fund, which has resulted in 29 projects set to create 20,000 higher apprenticeship places over the next three years in careers such as engineering, law and accountancy.
Skills Minister Matthew Hancock said:
Apprenticeships are vital to the Government's drive to create a more highly skilled workforce who are better able to compete in the global race.
This big increase in higher apprenticeships is giving people the opportunity to follow work-based pathways into professional careers in engineering, the legal sector and accountancy, while earning. This is a result of our determination to put vocational education on a par with academic learning, and we are developing this further in 2013 by extending apprenticeships to include graduate and post-graduate level learning.
We are strengthening apprenticeships to make them more rigorous, and to respond to the ever-changing needs of the modern workplace.
The figures also showed that growth in apprenticeships has been balanced across the regions, with increase in starts ranging from 11 to 15 per cent.
Notes to editors:
A breakdown of the statistics by sector, region and level of apprenticeship can be found at http://www.flickr.com/photos/bisgovuk/sets/72157632656732088/.
Higher apprenticeships: A Higher Apprenticeship incorporates qualifications at Levels 4 and 5 (for example Higher Education Certificate, Higher National Certificate, Higher National Diploma or Foundation Degree). Higher Apprenticeships are designed against the legislative requirements set out in the Specification of Apprenticeship Standards for England and will enable the apprentice to develop the knowledge and competence required to perform effectively in a specific management or professional role.
The full report can be viewed at http://www.thedataservice.org.uk/statistics/statisticalfirstrelease/sfr_current/
The government's economic policy objective is to achieve 'strong, sustainable and balanced growth that is more evenly shared across the country and between industries'. It set four ambitions in the 'Plan for Growth' (PDF 1.7MB), published at Budget 2011:

To create the most competitive tax system in the G20
To make the UK the best place in Europe to start, finance and grow a business
To encourage investment and exports as a route to a more balanced economy
To create a more educated workforce that is the most flexible in Europe.

Work is underway across government to achieve these ambitions, including progress on more than 250 measures as part of the Growth Review. Developing an Industrial Strategy gives new impetus to this work by providing businesses, investors and the public with more clarity about the long-term direction in which the government wants the economy to travel.
Published 31 January 2013