Press release
Apprenticeships score top marks from businesses and apprentices
Apprenticeships are highly praised: 78% of apprentices and 81% of businesses say they would recommend them to friends or other employers.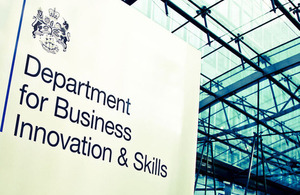 8 out of 10 (83%) apprentices say apprenticeship boosted their career prospects
7 out of 10 (72%) employers say apprenticeships improved their product or service quality
Apprenticeships have been highly praised in a new survey, with nearly 8 out of 10 (78%) apprentices and 8 out of 10 (81%) businesses saying they would recommend them to friends or other employers.
The surveys from the Department for Business, Innovation and Skills (BIS) also showed that 8 out of 10 (83%) apprentices said their apprenticeship improved their ability to do their job and boosted their career prospects.
Business Secretary Vince Cable said:
Despite the tough economic climate we have prioritised funding for Apprenticeships. With numbers increasing by more than 80% in the last two years we know they are a popular choice. Today's survey reinforces this, proving that apprenticeships boost the prospects for both young people and businesses.
Building a skilled workforce, partly through apprenticeships, will give employers the skills they need to build a stronger economy throughout the UK.
The survey follows new data released last week which showed that 54% of young people in England would choose to do an apprenticeship if one were available.
Skills Minister Matthew Hancock said:
Apprenticeships are becoming an increasingly attractive option for school leavers who want to forge a successful career by earning while they learn. This research shows why they are good news for both young people and employers.
Whether they want to be a pilot, an accountant or even a space engineer, I would urge teenagers receiving their exam results to consider how an apprenticeship could help them achieve their career goals.
We want it to become the new norm that young people go either to university or into an apprenticeship.
Research published in April this year also showed that employers find apprentices 15% more employable than young people with other qualifications. In the study, employers ranked higher apprentices as the most employable of all young people – above those with degrees.
Notes to editors
Work is underway across government to achieve these ambitions, including progress on more than 250 measures as part of the Growth Review. Developing an Industrial Strategy gives new impetus to this work by providing businesses, investors and the public with more clarity about the long-term direction in which the government wants the economy to travel.
Published 20 August 2013