News story
Apprenticeship opportunities at leading defence firm
Armed Forces Minister Mark Francois has learned about the opportunities available to apprentices at defence equipment company MBDA.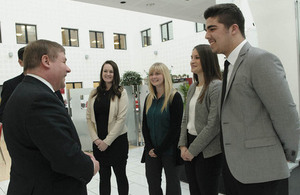 The minister spoke to young trainees as part of a day spent at the missile systems developer and manufacturer's site in Filton, south Gloucestershire, during a visit coinciding with the conclusion of National Apprenticeship Week.
Mr Francois met apprentices Daniella Di Stazio, Louie Penfold, Anna Schlautmann and Lucinda Jones, all aged between 19 and 21.
The group explained their roles within the firm, which has operations across Europe as well as in the UK, and provided the minister with their first-hand experience of the opportunities that apprenticeships had presented them with.
Mr Francois said:
It is difficult to overstate the importance of apprenticeship schemes and it was fantastic to meet young people who have seized their opportunity with both hands.

National Apprenticeship Week is a good time both to celebrate apprenticeships and highlight once again the positive impact they can have on people and businesses.

After meeting these apprentices I'm confident that the future of defence manufacturing in this company is in safe hands. I wish them every success for the future.
All 4 apprentices are employed either within business or engineering with MBDA.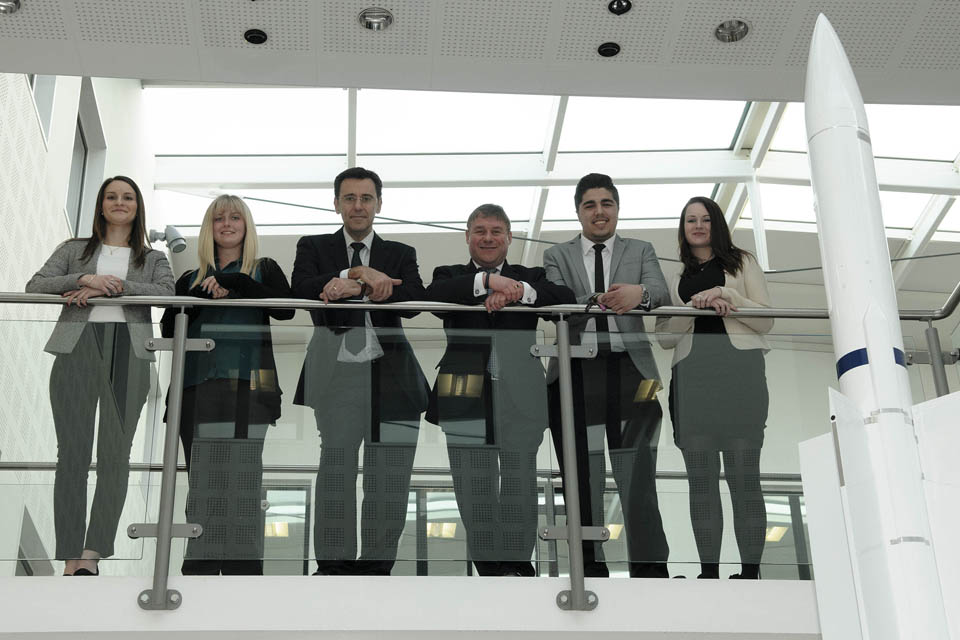 Daniella Di Stazio, aged 21, is a fourth-year business apprentice based at MBDA's Stevenage site in Hertfordshire where she works in a supply chain transformation team. She won National Higher Apprentice of the Year 2014 from Semta (the UK Skills Council for Engineering and Manufacturing) in February.
Louie Penfold, aged 19, is a third-year engineering apprentice who works at MBDA's Henlow facility in Bedfordshire on the final missile assembly line where the integration of warheads and motors takes place prior to customer delivery.
Anna Schlautmann, aged 21, is a third-year logistics apprentice who works on MBDA's manufacturing workload forecast process ensuring that the company has the necessary resources amongst the teams working on the shop floor on missile assembly. Anna won Apprentice of the Year at the 2013 Manufacturer Awards in December last year.
Lucinda Jones, aged 21, is a second-year engineering apprentice who works in operations at MBDA's Lostock site in Greater Manchester where she is involved with manufacturing missile components and inert missile assembly.
Daniella said:
Taking part in this apprenticeship scheme has been fantastic for me because I can get paid while gaining experience in permanent employment. It has given my career a great head start in an industry which I find fascinating. I've really enjoyed my time at MBDA

It's also really good to see the Ministry of Defence and the government taking the opportunities presented to young people by apprenticeships seriously.

I really value the opportunity to meet a minister today and talk to him about my career and I hope he found it useful to hear how we have benefited from the scheme.
For people who want to pursue a career in defence, there are no shortage of apprenticeship opportunities.
MBDA offers places each year and is just one of many defence companies offering apprenticeship opportunities for young people starting out on the career ladder.
In addition, the Ministry of Defence, Royal Navy, Army and Royal Air Force combined are the biggest providers of apprenticeships in the UK.
Army schemes alone have an annual value of £27 million and at any one time there are more than 15,000 soldiers enrolled on an apprenticeship.
Published 8 March 2014