News story
Apprentices at work in the heart of government
Joyce Omope, a communications apprentice working in government, talks about her experiences and what her highlights have been so far.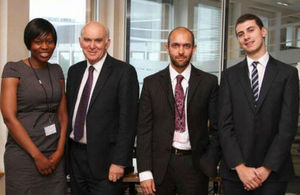 In June 2013 the Department for Business, Innovation and Skills employed 3 communications apprentices to spend 18 months working in the department.
Now half way through their apprenticeships Joyce Omope, Daniel Harris and Harry Wingfield talk about their experiences in this short film.
Apprentices at work in the heart of government.
Joyce Omope writes about how she's finding her apprenticeship and colleagues that she's worked with tell of the great contribution she's made to the work of the department.
Joyce's story
Since joining the Department for Business, Innovation and Skills as a communications apprentice I have been given countless unique opportunities that I would not have had if I'd opted for a 1 or 2 to 3 week work experience placement. Working in the heart of government I have been able to learn from, and work closely with, communications professionals across disciplines, which has been hugely rewarding and confidence boosting.
The first 6 months was spent in External Relations including some time with Stakeholder Engagement, Outreach and Ministerial Visits teams. I was responsible for producing 'BIS Bulletin', the weekly stakeholder e-newsletter during key times such as the Spending Review 2013 and Autumn Statement 2013.
I also worked with our stakeholders to plan and arrange visits for BIS staff as part of the Outreach Team during Tomorrow's Engineers Week and Global Entrepreneur Week. I was able to successfully negotiate multiple visits to Premier League Enterprise Academies such as Manchester United and Newcastle. This enabled me to get a better understanding of BIS's policies in practice and build relationships with key stakeholders.
One of my highlights during this rotation was with the Ministerial Visits team when I was asked to lead on planning a visit for Consumer Minister Jo Swinson to Manchester.
Mervyn Aranha, Ministerial Visits Manager at BIS said:
One of Joyce's notable successes was a regional visit to Manchester that she planned and delivered for Jo Swinson, Minister for Employment. Joyce created and implemented a full day programme from scratch, working proactively and effectively with internal and external stakeholders. Joyce ensured the visit could provide a strong visual platform for media and follow-up communications by guiding stakeholders on identifying opportunities that were photogenic and engaging for the minister. She also compiled and wrote a high quality briefing pack which was testament to her strong written communication skills. She was an enthusiastic, helpful member of the team who was adept at supporting the full range of tasks ministerial visits involves.

She was a valuable asset to the team and stepped in quite willingly to assist in searches for stakeholder participation at roundtable and venues for ministerial visits at short notice.
I am currently working in the Press Office where I have been able to expand on my journalism experience. I've written an article that's been published in 'The Times' and 1 on flexible working for the 'New Statesman' magazine. In addition to the work I have already done for UKTI and Jenny Willott so far, I am looking forward to working on time-pressured tasks that will challenge me further as well as get a well-rounded experience of working on other policy areas by assisting colleagues on other desks.
Rebecca Murrell, Press Officer at BIS said:
As the department responsible for apprentices, it's good that we can talk from experience about the benefits of employers hiring apprentices. The BIS press office is a very busy environment, so it has been great that we've been able to put Joyce's journalism skills to good use as well as have her help out on a number of projects across the office.
Over the next couple of months I will support my Press Office colleagues during key events for Women on Boards and the International Festival for Business. I will also prepare and present the top stories of the day for the daily cuts meeting (usually done by the Duty Press Officer for the day) and lead on media activities during Scams Awareness Month.
In June I will be moving to Internal Communications to complete my final rotation. During my final 6 months I will start applying for a permanent communications jobs in BIS or other government departments in Whitehall depending on job availability. My time so far in BIS has made me 100% sure that I want to work in public sector communications. I have grown confident in my abilities, as well as picking up a wealth of knowledge and skills in 3 different areas of government communications.
Here's to hoping that I will become a permanent fixture in Whitehall by the end of my apprenticeship programme.
Published 7 March 2014