News story
Appointments to the Prison Service Pay Review Body
The appointment of Andrew Dickerson, Peter Maddison and Paul West to the Prison Service Pay Review Body.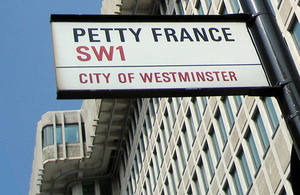 The Prime Minister in consultation with the Secretary of State and the Northern Ireland Justice Secretary, has agreed to the appointment of Andrew Dickerson, Peter Maddison and Paul West to the Prison Service Pay Review Body (PSPRB). Andrew Dickerson is appointed as the Labour Market Economist member, Peter Maddison and Paul West are appointed as members. All appointments are for 3 years until 31 July 2019. These appointments have been conducted in accordance with the Commissioner for Public Appointment's Code of Practice on appointments to public bodies.
PSPRB is one of 8 independent pay review bodies. PSPRB is independent of government, the Prison Service and trades unions, and all review bodies operate independently of one other.
PSPRB's remit covers around 25,000 staff in England and Wales and 1,500 staff in Northern Ireland.
The Review Body's 8 members are individuals who have senior-level experience on pay and related matters from the private, public or third sectors. Together they provide a pool of knowledge and experience of labour market, industrial relations, personnel and pay issues.
Andrew Dickerson
Andy is an academic Labour Market Economist. He has been Professor of Economics at the University of Sheffield since 2006, and was the Head of Department from 2011 to 2015. He is also an honorary fellow at the Institute for Employment Studies, and was previously a visiting fellow for UK Commission for Employment and Skills.
Andy's research is focussed on wage determination and skills in the UK labour market. He has wide experience in producing policy relevant research for a variety of government departments and non-departmental public bodies and third sector agencies.
Peter Maddison
Peter has over 30 years of senior strategic management and governance experience in the public and private sector. He is currently the Chairman for Atmaana Consulting, Security and Emergency Services Group, is one of the 6 Local Government Boundary Commissioners for England and is already a Member of PSPRB. He has also been the UK Project Manager for Capacity, Capability, Demand and Resource element of the 2012 Olympic Police Safety and Security Strategy. He completed his police career in 2009 as the Chief Constable of the Northamptonshire Police.
Paul West
Paul is currently the Managing Director of Policing First Limited. He has 32 years of policing experience, including 13 years as a chief officer and 8 years as the Chief Constable of West Mercia Police. In 2011 he was joint Director of the Indian Police Service Mid-Career Training Programme Phase IV, based at the National Police Academy in Hyderabad, India. He has been the Bishop of Worcester's Criminal Justice Affairs advisor since 2012. He is an independent member of the Judicial Appointments Commission and also sits on Police Appeals Tribunals in Northern Ireland. Paul was recently appointed as Chair of Governors at Bromsgrove School and is also the Chair of Trustees at Holland House Retreat and Conference Centre in Cropthorne, Worcestershire. He was previously a member and Vice-Chair of the Board of Governors of the University of Worcester where he also chaired the Board's Personnel Committee and was a member of its Remuneration Committee
All appointments are subject to secuirty clearance.
Published 15 September 2016