News story
Appointments to the Insolvency Rules Committee
The Lord Chancellor has appointed David Leibowitz, and re-appointed Alison Broad and Antony Zacaroli to the Insolvency Rules Committee.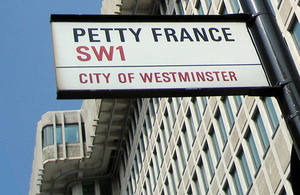 The Lord Chancellor has appointed David Leibowitz for 3 years (1 December 2016 to 31 November 2019) as practising solicitor member, re-appointed Alison Broad as accountant member for 3 years (8 August 2017 to 7 August 2020), and re-appointed Antony Zacaroli as barrister member for 3 years (29 July 2017 to 28 July 2020) to the Insolvency Rules Committee (IRC).
These appointments to IRC have been made by the Lord Chancellor in consultation with the Chancellor of the High Court on behalf of the Lord Chief Justice and are regulated by the Commissioner for public appointments. The appointments have been made in line with the Commissioner's Code of Practice for Ministerial Appointments to Public Bodies.
IRC considers amendments to the rules arising out of a review of secondary legislation, giving their recommendations to the Lord Chancellor. IRC members are from the legal and accountancy professions. They provide their services on a voluntary and unremunerated basis.
David Leibowitz
David is a partner in the Restructuring and Insolvency Department at Berwin Leighton Paisner (BLP) LLP.
David acts for banks, insolvency practitioners, trade creditors, directors, shareholders, the Insolvency Service and foreign lawyers on both domestic and cross border insolvencies. He has extensive experience in dispute resolution in the context of commercial fraud, cases concerning validity of security, asset recovery, guarantees, director's duties, transactional avoidance and disqualification proceedings.
David is a CEDR accredited mediator. He writes and lectures regularly on insolvency issues.
Published 15 December 2016