Appointments to the Homes and Communities Agency Regulation committee
The Secretary of State for Communities and Local Government today announced the appointment, following open competition, of four non-executives…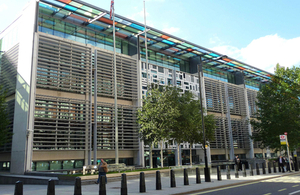 The Secretary of State for Communities and Local Government today announced the appointment, following open competition, of four non-executives members to the Homes and Communities Agency's new Regulation Committee:
Piers Williamson
Jane May
Richard Moriarty; and
Jim Coulter
They will join Chair-designate Julian Ashby in overseeing regulation of the social housing sector from 1 April 2012, when responsibility for this vitally important function transfers to the Homes and Communities Agency.
The Secretary of State said:
We are committed to robust regulation of the social housing sector, and this is a strong committee which I am confident will ensure that task is delivered. It is right that as the Committee members establish the Regulation function at the Homes and Communities Agency, they should focus on the economic viability, good governance and value for money of Registered Providers.

We have chosen to appoint a highly skilled Committee while retaining the flexibility to assess and address any emerging challenges as the new Regulatory Framework is implemented.
Julian Ashby said:
I am delighted to be joined on the Committee by four such capable people. They bring a range of expertise in their respective fields, including fresh perspectives from other areas of regulation as well as those with substantial experience in social housing. It includes strong financial, commercial and economic expertise which will be essential for the Committee's core role of economic regulation. Together we will ensure effective independent regulation of social housing that is robust, transparent and commands the confidence of the sector, its lenders and other stakeholders.
Key staff will transfer from the Tenant Services Authority on 1 April 2012, ensuring continuity on ongoing casework. As part of the Homes and Communities Agency, the new Committee will oversee implementation of the new regulatory framework.
Notes to editors
The Homes and Communities Agency Regulation Committee is a statutory committee of the Homes and Communities Agency, created by virtue of the Localism Act 2011. It will assume full powers and responsibilities from 1 April 2012, following abolition of the Tenant Services Authority.
Piers Williamson is Chief Executive of the Housing Finance Company, a not-for-profit organisation that raises market finance for registered providers. He brings a wealth of financial services and banking experience along with over nine years experience of the social housing sector. Piers has also held non-executive Board roles at the Co-operative Bank and Insurance Society.
Jane May with recent regulatory experience as a Board member of OFWAT and the Office of Rail Regulation, Jane also has commercial experience as Customer Services Director of Thames Water.
Richard Moriarty is currently Director of Economic Regulation at the Civil Aviation Authority, and was previously Director of Regulation at the Tenants Services Authority, and has additional regulatory experience at Postcomm, Ofgem and Ofgas.
Jim Coulter is a current member of the Tenant Services Authority Board. Jim has huge experience in the housing sector as well as significant non-executive experience. A former chief executive of the National Housing Federation, he has also chaired Bridging Newcastle Gateshead and been a Board member of the Audit Commission and the Housing Finance Corporation.
The Chair of the Committee, Julian Ashby, has been appointed for three years, while other members have been appointed for 12 months, with the option to renew, subject to Secretary of State approval. Committee members will receive remuneration of £11,000 per annum for up to two days per month. Existing public servants will forfeit any right to remuneration.
The appointments were made after open competition, conducted by the Department for Communities and Local Government, supported by the Whitehall and Industry Group.
The Committee may consist of between four and six members, in addition to the Chair. Two vacancies will be retained. A further recruitment exercise will be run within the first year and is likely to focus on further boosting the commercial expertise available to the Committee.
Twitter
Keep up to date with the Department by following us on Twitter (external link).
Media enquiries
Visit our newsroom contacts page for media enquiry contact details.
Published 20 February 2012