Press release
Appointment to the Homes and Communities Agency board
The Secretary of State for Communities and Local Government has announced the appointment of Jane May to the Homes and Communities Agency's board.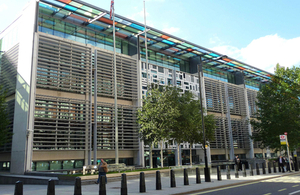 Mrs May is a member of Homes and Communities Agency's regulation committee. All members of the regulation committee were invited to apply to join the board in order to fill a remaining vacancy following the open competition conducted last autumn.
Housing Minister Mark Prisk said:
Jane May brings considerable regulatory and commercial experience to this role. Her appointment will strengthen the board at an important time following the Budget, with the agency taking on an expanded role in delivering the homes we need.
Chairman of the Homes and Communities Agency board, Robert Napier said:
The appointment of Jane May is very welcome. The presence of a second member of the regulation committee on the board will further improve the Homes and Communities Agency's internal governance, in a way that is consistent with the committee's independent decision making.
Notes to editors
The Homes and Communities Agency is the government agency tasked with supporting and enabling places to deliver their housing and regeneration needs and helping to drive local economic growth. The agency is also responsible for the regulation of social housing, a function carried out by its independent regulation committee.
The chair of the regulation committee (Julian Ashby) is already an ex-officio member of the Homes and Communities Agency board. The Housing and Regeneration Act 2008 provides that one other member of the committee may also be a member of the board.
This appointment was made following a competition open to members of the regulation committee only. This followed a fully open competition to recruit new Homes and Communities Agency board members in which one vacancy was not filled. This approach was agreed in advance with the Commissioner for Public Appointments, and the competition was otherwise run in accordance with the commissioner's Code of Practice for Ministerial Appointments to Public Bodies.
Jane May has been appointed to the Homes and Communities Agency board with effect from 1 May 2013. She will continue to serve on the regulation committee, with both terms due to expire on 31 March 2016.
Mrs May has served on the regulation committee since its establishment in April 2012. Her other current non-executive appointments include the Vehicle and Operator Services Agency, the Information Commissioner's Office and the Government Actuary Department. She previously held non-executive positions at OFWAT and the Office of Rail Regulation. Her executive career included 6 years as Customer Service Director at Thames Water.
Mrs May's remuneration as a board member will be £6,000 for 1 day per month (in addition to the £11,000 she currently receives for 2 days a month as a regulation committee member).
Published 3 May 2013