Appointment to the Board of the Royal Botanic Gardens (RBG), Kew
Professor Malcolm Press has been appointed to the Board of Trustees of the Royal Botanic Gardens, Kew by Lord Taylor of Holbeach. This appointment…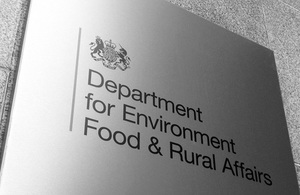 Professor Malcolm Press has been appointed to the Board of Trustees of the Royal Botanic Gardens, Kew by Lord Taylor of Holbeach.
This appointment has been made in accordance with the Code issued by the Commissioner for Public Appointments and will run until July 2015.
All appointments are made on merit and political activity plays no part in the selection process. However, in accordance with the original Nolan recommendations, there is a requirement for appointees' political activity to be made public.  Professor Press has not declared any political activity.
The Royal Botanic Gardens, Kew is an Executive Non-Departmental Public Body created under the National Heritage Act 1983, sponsored by Defra and which operates under a Board of Trustees. 
The Board of Trustees for the Royal Botanic Gardens, Kew comprises a Chairman and 11 members. Ten members and the Chair are appointed by the Secretary of State.  Her Majesty the Queen appoints her own Trustee on the recommendation of the Secretary of State.
Trustees do not receive any direct remuneration for their services, although reasonable travel and subsistence expenses can be reimbursed.
Notes:
Malcolm Press is a Professor of Ecology and at the University of Birmingham.  He is currently Pro-Vice-Chancellor and Head of the College of Life and Environmental Sciences. He previously worked at the Universities of Sheffield and Manchester. Malcolm's research is on interactions between parasitic plants and their hosts, environmental change in Arctic ecosystems, and tropical rainforest ecology.  He has written over 150 papers and articles. 
Malcolm's recent roles include presidency of the British Ecological Society (2007-09) and membership of the Natural Environment Research Council's Science and Innovation Strategy Board (2007-10).  He is currently a member of the National Trust Council and Deputy Chair of the Research Excellence Framework's Biological Sciences sub-panel.
Published 28 June 2012