Press release
Appointment of the new Chief Electoral Officer for NI
The Secretary of State, Rt Hon James Brokenshire MP today announced the appointment of Virginia McVea as the new Chief Electoral Officer for Northern Ireland.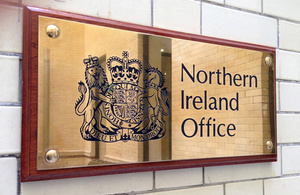 Virginia McVea succeeds Graham Shields, who is due to retire in January 2017. The appointment will be for a five year term.
Announcing the new appointment, Mr Brokenshire said:
I am delighted to appoint Virginia McVea as the new Chief Electoral Officer for Northern Ireland.
The role of Chief Electoral Officer is vital to ensuring public participation and confidence in the electoral process in Northern Ireland and I have no doubt that Virginia has the right skills and experience to deliver in this important role.
The Secretary of State also paid tribute to the work of the outgoing Chief Electoral Officer, Graham Shields:
I also pay tribute to the work of Graham Shields, who has served Northern Ireland as Chief Electoral Officer for over the last 6 years with commitment and integrity. During his tenure he has overseen the conduct of several major elections in Northern Ireland and introduced a number of successful initiatives which have significantly improved registration levels. I wish him well in his retirement.
Virginia McVea's appointment will take effect from 1 February 2017.
Notes for Editors
The Secretary of State for Northern Ireland is responsible for appointing the Chief Electoral Office under section 14 of the Electoral Law Act (Northern Ireland) 1962, as amended by Article 6 of the Electoral Law (Northern Ireland) Order 1972, the Northern Ireland (Modification of Enactments – No 1) Order 1973 and the Northern Ireland (Miscellaneous Provisions) Act 2006.
This appointment is not regulated by the Office of the Commissioner for Public Appointments; however, Virginia McVea has been appointed following an open recruitment process run in accordance with Cabinet Office guidelines on making and managing public appointments.
Biography of Appointee
Virginia McVea is a qualified solicitor who is currently Director (Chief Executive Officer) of the Northern Ireland Human Rights Commission.
She previously served as Head of Legal Services in the Human Rights Commission and as a legal adviser to the Regulation and Quality Improvement Authority.
Terms of appointment
The appointment is for five years commencing on 1 February 2017.
The position is full time and pensionable.
Remuneration on appointment is £77,615, which will be reviewed annually.
Political Activity
All appointments are made on merit and with regards to the statutory requirements. Political activity plays no part in the selection process. However, in accordance with the original Nolan recommendations, there is a requirement for appointees' political activity in defined categories to be made public.
Virginia McVea has declared no political activity in the past ten years.
Statutory Requirements
This appointment is made by the Secretary of State with regard to the equality provisions set out in section 75 of the Northern Ireland Act 1998.
Published 23 December 2016