Press release
Appointment of Land Registry Chief Executive
Business Minister Michael Fallon today announced the appointment of Ed Lester as the new Chief Executive of the Land Registry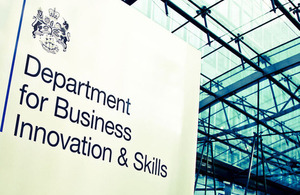 Business Minister Michael Fallon today announced the appointment of Ed Lester as the new Chief Executive of the Land Registry, succeeding Malcolm Dawson OBE.
Ed Lester's previous role was Chief Executive of Student Loans Company where he led the organisation through a period of major transformation and where it become an early model of the government's 'Digital by Default' programme.
This experience will be invaluable to the Land Registry as it moves into the implementation phase of its own transformation to become an exemplar of a highly efficient, digital and data centric organisation. This includes digitising its core registration processes and developing a more strategic approach to data to support wider economic growth.
Business and Energy Minister Michael Fallon said:
Ed Lester has the right skills, experience and ambition to meet the new challenges that face the Land Registry. His previous experience of running the Student Loans Company will help to ensure that the Land Registry can become a more nimble, digitally driven organisation.
I would like to thank Malcolm Dawson for his leadership and dedication over the last two years, including restructuring Land Registry following the downturn in the housing market, and the contribution he has made in setting up the Public Data Group.
Ed Lester said:
I am delighted and honoured to have been given the opportunity to lead the Land Registry and become the Chief Land Registrar.
The Land Registry has a significant heritage and history of achievement and I hope that I will be able to contribute to its continuing success through the enhancement of its organisational capability.
I look forward to working with both the Land Registry Board and executive team in implementing the agreed business strategy.
Malcolm Dawson said:
I would like to congratulate Ed and have no doubt he will prove to be an invaluable asset to Land Registry. I leave assured that the vision and strategy for the future of Land Registry that the Board and I have set out means it will be well placed to play its part in supporting economic recovery.
With the largest transactional database of its kind detailing over 23 million titles, the Land Registry underpins the economy by safeguarding ownership of many billions of pounds worth of property. Land Registry has an employee base of around 4,500 across 14 offices, with a head office in Croydon where Ed Lester will be based.
Notes to Editors
1.Malcolm Dawson took up post as Chief Land Registrar and Chief Executive of Land Registry on 22 March 2011, on a fixed term basis.
2.The appointment of Ed Lester concludes a three month open and transparent competition, overseen by the Civil Service Commission. The appointment is subject to final checks.
3.Ed Lester's prior roles include Chief Executive of the Student Loan Company (June 2010 to January 2013), Chief Executive at NHS Direct (January 2004 to October 2008) and Chief Executive at Motability Finance Limited (1994 to 2004).
4.From day one he will be on payroll and the post will pay a salary of £135,000. He will also be eligible for a performance related award package of up to 20 per cent of base salary. This would be awarded for excellent performance against a clear set of specific objectives aligned with delivering the Land Registry's strategy. This remuneration package has been approved by the BIS Senior Remuneration Oversight Committee.
5.As a government department established in 1862, executive agency and trading fund responsible to the Secretary of State for Business, Innovation and Skills, Land Registry keeps and maintains the Land Register for England and Wales. The Land Register has been an open document since 1990.
6.The new business strategy was agreed in December 2012. It sets the direction that Land Registry will follow to unlock efficiency in the public sector and land and property market, to maximise the re-use of data for the benefit of the wider economy, to increase and extend the assurance and compliance provided to the market and to grow and maximise the benefit of its organisational capability.
7.For further information about Land Registry visit www.landregistry.gov.uk
8.The government's economic policy objective is to achieve 'strong, sustainable and balanced growth that is more evenly shared across the country and between industries'. It set four ambitions in the 'Plan for Growth' (PDF 1.7MB), published at Budget 2011:
to create the most competitive tax system in the G20
to make the UK the best place in Europe to start, finance and grow a business
to encourage investment and exports as a route to a more balanced economy
to create a more educated workforce that is the most flexible in Europe.
Work is underway across government to achieve these ambitions, including progress on more than 250 measures as part of the Growth Review. Developing an Industrial Strategy gives new impetus to this work by providing businesses, investors and the public with more clarity about the long-term direction in which the government wants the economy to travel.
Published 18 April 2013