Press release
Appointment of independent chair for the Information Standards Board
Deep Sagar takes up a two-year appointment as independent Chair of the Information Standards Board (ISB).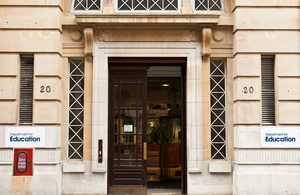 Deep Sagar has been appointed as the new Chair of the Information Standards Board for Education, Skills and Children's Services, England for a period of 2 years from 18 February 2013.
Deep works as a non-executive director and management consultant. His main background is as a senior manager in multinationals like Coca-Cola and Unilever Bestfoods. His present roles include chair of the Leasehold Advisory Service and Flood Risk Management Wales.
Deep brings with him a wealth of experience in leadership and governance. He has been selected to lead the next phase of adoption and implementation of data and information standards across education, skills and children's services to:
facilitate information sharing across the system
support improved front line delivery
improve efficiency, reduce costs and minimise bureaucracy
The appointment of a new chair underlines the government's commitment to establishing effective and efficient governance to provide stability in the development, adoption and maintenance of data and information standards which will further improve the delivery of educational support and services.
Notes to editors
The appointment process was run in accordance with the code of practice issued by the Office of the Commissioner for Public Appointments (OCPA) and was made on merit: political activity played no part in the selection process. However, in accordance with the original Nolan recommendations and the code of practice, there is a requirement for appointees' political activity (if any declared), and other information, to be made public.
| Name | Term of office | Political activity declared | Remuneration | Other public appointments |
| --- | --- | --- | --- | --- |
| Deep Sagar | Two years | None | £500 per day approximately 30 days per year | WG Flood Risk Management Wales: 01/12/2010 - 30/11/2013 |
|   |   |   |   | DCLG Leasehold Advisory Service: 01/01/2007 - 31/12/2014 |
|   |   |   |   | MOJ Parole Board: 08/2007-07/2013 |
|   |   |   |   | DCMS National Lottery Commission: 01/09/2007 - 31/03/2013 |
|   |   |   |   | NIE NI Water: 14/08/2011- 13/08/2014 |
|   |   |   |   | Welsh Government Sector Panel, manufacturing and materials: 01/02/2011- 31/01/2014 |
|   |   |   |   | DBIS Employment Tribunals: 09/2005-present |
Deep Sagar replaces Dorian Bradley, the previous chair, who was in the post for 5 years from 2007 - February 2013.

The Information Standards Board (ISB) is jointly sponsored by the Department for Business, Innovation and Skills (BIS) and the Department for Education. The Department for Education manages the day to day running of the ISB.

The ISB is the overarching authority and governing body for the management and assurance of data and information standards across the education, skills and children's services system.

Information standards are an essential element of a system-wide knowledge architecture because they help to ensure that information from one place can be understood, and carry full value. This helps to reduce collection and development burdens, save money and improve outcomes for children, parents and learners through better use of information about them and their learning. The aim of work on information standards in education, skills and children's services is to ensure that, increasingly; all data used in the sector can be used anywhere else in the sector and shared with other partners.

There are also a very wide range of information standards across the education, skills and children's services sectors, which need to be brought together and simplified. The board will be the system-wide authority for all information and data standards across the sector. A technical support service sits alongside to provide the Information Standards Board and the sector with advice on standards-related issues, resources to help cut the costs of developing or re-purposing standards and to quality assure the process for standards development and adoption.
Independent chair
Board members
Adam Cooper, Deputy Director, Joint Information System Committee Centre for Educational Technology and Interoperability Standards (JISC/CETIS)
Alison Allden, Chief Executive Higher Education Statistics Authority (HESA)
Greg Hill, Director of the South East Grid for Learning
Jill Lanning, Chief Executive of the Federation of Awarding Bodies (FAB)
John Perks, Head of the information authority (IA)
Karen Crowston, Head of Professional Services for Link2ICT, Service Birmingham
Peter Duffy, Head of Information Systems, Office for Standards in Education, Children's Services and Skills (Ofsted)
Una Bennett, Head of the Learning Records Service (LRS). Skills Funding Agency
Representative organisation
David Riley, National Lead for the Health and Social Care Information Standards Board (HaSC)
Departmental sponsors
Bobbie McClelland, Deputy Director, FE & Skills System Relationship Management Unit Department for Business Innovation and Skills
Jude Hillary, Head of Education Data and Statistics Division, Department for Education
Secretariat duties are provided by the Department for Education.
DfE enquiries
Central newsdesk 020 7783 8300
General enquiries 0370 000 2288
Published 17 April 2013