News story
Appointment of Claire Thomas as DECC Non-Executive Director
The Secretary of State has today appointed Claire Thomas as a Non-Executive Director for DECC for a period of two years from 1 January 2012.…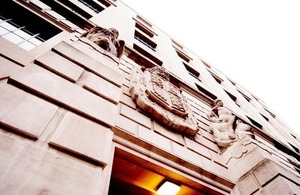 The Secretary of State has today appointed Claire Thomas as a Non-Executive Director for DECC for a period of two years from 1 January 2012. 
Claire will join the Department's existing Non-Executive Directors Paul Walsh and Rob Whiteman. Richard Reed will step down as a Non-Executive Director for DECC at the end of this year when his contract comes to an end. A further recruitment will bring the total up to four Non-Executive Directors for the Department as recommended by the Corporate governance code for central government departments.
In her role as Non-Executive for DECC, Claire will sit on the Departmental Board and work with Ministers, Non-Executives, and Executives. The Non-Executives work through influence and advice, supporting as well as challenging the Executive, and advising on performance, operational issues and on the effective management of the Department. Claire will sit on the newly formed Talent, Succession and Remuneration Committee, where she will be able to bring her invaluable experience in HR.
Further details on the Departmental board members can be found on the DECC website.
---
Claire Thomas Biography
SVP HR, GlaxoSmithKline
Claire is Senior Vice President at GlaxoSmithKline (GSK) where she is a member of the Corporate Executive Team, reporting to the CEO. She leads the Global HR function for the Company and is responsible for GSK's Environmental Sustainability Strategy.
 
Previous roles at GSK include Senior Vice President Human Resources Pharmaceuticals Europe where she successfully led the function through the merger with SmithKline Beecham and played a key strategic role in the radical redesign and delivery of the new operating model for GSK's European Business.  She then assumed responsibility for Senior Vice President Human Resources Pharmaceuticals International where she was responsible for driving the HR agenda in Emerging Markets and Asia Pacific.
 
Prior to joining GSK Claire worked for Ford Motor Company, holding various HR leadership and organisational development positions in the Dagenham Assembly Plant, Sales & Marketing UK and Central Europe, and European Engineering.  Claire has a Bachelor of Science Honours Degree in Economics, Management and Industrial Relations from the University of Wales. Claire was honoured as an Outstanding European Woman of Achievement in 2007.
 
Published 3 November 2011