Press release
APPOINTMENT OF ASSISTANT COMMISSIONERS
The District Electoral Areas Commissioner announces appointments of Assistant Commisioners commencing September 2013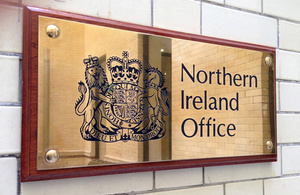 The Northern Ireland Office invites applications for appointment to a pool of Assistant Commissioners to support the District Electoral Areas Commissioner.
DISTRICT ELECTORAL AREAS COMMISSIONER The post of District Electoral Areas Commissioner (DEAC) is a temporary statutory appointment, which is required when the boundaries for local government districts and wards in Northern Ireland have been reviewed. The DEAC's role is to make recommendations to the Secretary of State for Northern Ireland for the grouping of wards into District Electoral Areas (DEAs) for the purpose of local government elections. The current DEAC is Mr Richard Mackenzie CB.
ASSISTANT COMMISSIONER ROLE The role of the Assistant Commissioners is to inquire into and report on such matters as the DEAC requires. In particular, Assistant Commissioners may be asked to consider any objections received to the DEAC's provisional recommendations and, where necessary, hold public inquiries to consider representations made both beforehand and at the inquiry itself. Each inquiry is expected to last no more than two full days and may require an overnight stay, although this will depend on the circumstances in each case. The Assistant Commissioner will then submit his or her written report and recommendations arising from the inquiry to the Commissioner within a period of four weeks.
PERSON SPECIFICATION Assistant Commissioners will need to have experience of participation in court proceedings, public hearings or tribunals and of considering evidence presented both on paper and in person, analysing complex and sometimes conflicting arguments, and of producing coherent reports including recommendations on the basis of evidence received.
SELECTION CRITERIA Applications are welcomed from solicitors and barristers (or other equivalents) who can successfully demonstrate:
clear political impartiality;
legal experience; and
the skills, knowledge and experience required to meet the selection criteria.
All candidates who put themselves forward for public appointment must have a clear understanding and commitment to the Seven Principles of Public Life.
DISQUALIFICATION For reasons of ensuring public confidence, the Assistant Commissioners are required to be impartial and be seen to be so. Current membership of, and/or canvassing for, a political party or standing for election at local, regional or national level, or engagement in other activities, within the past 10 years (as at 1 April 2013), which risk a public perception of prejudice, will be reasons for non-selection.
REMUNERATION AND PERIOD OF COMMITMENT The posts are temporary, but applicants will be expected to commit to working full-time when an inquiry is ongoing, and attract remuneration of £259 per day and £129.50 per half day plus travelling and subsistence at Northern Ireland Office approved rates.
Each Assistant Commissioner will be required to commit to engagement from September to November 2013, on the basis of holding one inquiry and reporting within four weeks of the close of the inquiry.
Inquiries may take place anywhere in one of the proposed 11 local government districts and attendance at meetings and training events in Belfast will be a requirement of the post. Applicants must therefore be willing to travel and have access to a form of transport that will permit them to meet the requirements of the job in full.
At this stage, and until the number and nature of any objections is known, it is not possible to indicate if, and how many, public inquiries will be held. Not all of the Assistant Commissioners appointed may be nominated to hold an inquiry. However, it is necessary to create a pool of qualified people to cover availability.
HOW TO APPLY An Information Pack and Application form can be obtained by emailing the Competition Co-ordinator at DEAC2013@nio.x.gsi.gov.uk or alternatively you can telephone 028 9052 7022 or write to:
DEAC Competition Co-ordinator Corporate Governance Unit Northern Ireland Office Room 122, Stormont House Annex Stormont House Belfast BT4 3SH Completed applications must be received by noon on Tuesday 7th May 2013. Late forms will not be accepted.
EQUALITY OF OPPORTUNITY Appointments will be made on merit and with regard to the equality provisions set out in Section 75 of the Northern Ireland Act 1998.
Published 23 April 2013