Press release
Appointment of Assistant Commissioner to the District Electoral Areas Commissioner
Minister of State, Mike Penning MP today announced the appointment of an additional Assistant Commissioner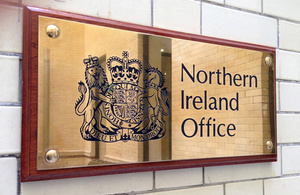 The Minister of State, Mike Penning, has today announced the appointment of an additional Assistant Commissioner to support the work of Richard Mackenzie CB, the District Electoral Areas Commissioner (DEAC) for Northern Ireland.
The DEAC will make recommendations on the grouping of local government wards in Northern Ireland within district council areas for the purposes of elections to local councils.
Mike Penning said:
I am pleased to announce the appointment of Patrick Good as an Assistant Commissioner.
The District Electoral Areas Commissioner's role is an important part of the local government reform process. The appointment of this additional Assistant Commissioner will help him complete a thorough review and then present his final recommendations quickly and effectively.
Patrick Good will join Eileen Brady, Paul Dougan, Nicolas Griffin and Sarah Havlin who were appointed on 2 July. The Assistant Commissioners will preside over local inquiries to consider representations received during the consultation on the DEAC's provisional recommendations for the grouping of wards in each of the eleven new local government districts into District Electoral Areas.
The DEAC's final recommendations will be published and laid before Parliament later this year.
The appointment will take effect from 16 July 2013.
Published 16 July 2013